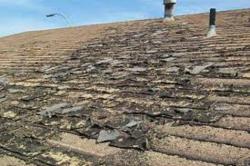 The start of the hurricane season is now underway and Roof Link Inc. is now expanding its offerings in the roof replacement industry.
Orlando, Florida (PRWEB) August 25, 2012
Hurricane roof damage in Jacksonville FL is a real problem for homeowners. The variety of insurance policies that are underwritten to protect against damage is just one element of proof how competitive the roofing industry is in the 21st century. Roof Link Inc., a Jacksonville FL based contracting company, is now repairing hurricane damage for Florida homeowners seven days a week. This expert company works closely with insurance agencies to bring much needed relief to North Florida homeowners that have properties that have been damaged by severe weather. The start of the hurricane season is now underway and Roof Link Inc. is now expanding its offerings in the roof replacement industry. More information can be obtained by visiting the Roof Link Inc. website at http://www.roofingjacksonvilleflorida.com.
The traditional time of the year for Florida homeowners to require protection the most is between August and October. It is during this time of the year that hurricanes have the most potential to do severe damage according to the National Weather Service. Florida homeowners can often become besieged with offers from insurance companies that specifically handle hurricane damage protection.
"Most insurance companies contract work out to one or two roofing companies and reap the benefits of these types of relationships," said Garrett Wadford, representative of Roof Link Inc. "We spend a lot of our time educating homeowners on what insurance companies are supposed to pay even if a homeowner has been denied an insurance claim," Wadford added.
A recent poll taken of over 100,000 homeowners that have an existing policy revealed that only 22 percent of them could answer yes to the question if they understood their policy documentation and coverage limits. Most states including Florida have insurance laws in place that require an insurer to provide easy to understand insurance policies so that all policyholders can be aware of protections available. The Roof Link Inc. contractors perform work for insurance companies and for homeowners that do not currently have insurance or that have been denied during a claim investigation.
The cost of roof repairs and installations is only one factor when selecting a roofing company to work with. The quality of the materials that are used for the replacement or repair is what can prevent future problems from happening. Products like Owens Corning shingles are rated to protect from up to 130 miles per hour of wind gusts. Additional additives to the creation of the shingles are what can help protect a roof from mold, algae or other formations that can shorten the lifespan of roof.
Companies like Roof Link Inc. that use Owens Corning shingles can give homeowners added protection from hurricane winds and hailstones. Interested homeowners can find out more information by contacting Roof Link Inc., 2730 Isabella Blvd, Suite 50, Jacksonville Beach, FL 32250 or by calling (904) 900-2801.
About Roof Link Inc.
Roof Link Inc. is a North Florida roofing company that provides estimates, repairs and installations seven days a week. These experienced professionals are now working more hours to meet the demand from homeowners and insurance companies throughout the hurricane season and beyond. With affordable prices and expert workers, Roof Link Inc. has been able to carve out quite a niche in the roofing contracting industry especially in the Jacksonville area. Free estimates are provided both online and by phone for all roof repair, installations and related services.