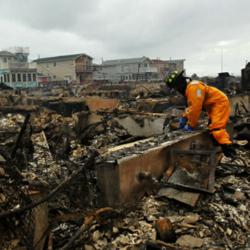 People are often so consumed with the devastation that has occurred in their lives that they are more vulnerable. Educate yourself against dishonest contractors now so you can avoid becoming a
victim of disaster fraud." ~Bryant
Minneapolis, Minnesota (PRWEB) November 01, 2012
In a press release yesterday, the Federal Trade Commission(FTC) said, "In the wake of Hurricane Sandy, the Federal Trade Commission reminds consumers that scams often follow disasters. The nation's consumer protection agency warns people about urgent appeals for charitable donations, and cautions residents in stricken areas about fraudulent home repair offers".
The Category 1 hurricane packed winds up to 90 miles per hour, and forecasters said it could stand as the largest hurricane in New England history. Homes tumbled in its wake like matchsticks. New construction contractors and home remodelers will be busy for years to come, helping families put their homes back together again.
Fraudsters target disaster-affected areas, hoping to cash in on property owners' insurance settlements and financial relief from the federal government. Home and business owners who need to hire a contractor should:
Destiny Home's owner Butch Sprenger mused, "While Minneapolis residents are far from any threat of Hurricane Sandy, we have known our share of natural disasters that arrive unannounced, and it is a good time to make a wise review of how to protect yourself from fraudulent home repair offers".
Superstorm Sandy will end up causing about $20 billion in property damages and $10 billion to $30 billion more in lost business, according to IHS Global Insight, a firm that makes forecasts to start to get our minds around what it will take to rebuild entire residential neighborhoods.
The FTC press release included the following tips for homeowners to use to make prudent hiring decisions as they begin to rebuild their lives and homes.
1) Check the contractor's identification and references.
2) Avoid paying more than the minimum in advance.
3) Deal with reputable people in your community.
4) Call local law enforcement and the Better Business Bureau if you suspect a con.
5) Ask for copies of the contractor's general liability and worker's compensation insurance.
After Hurricane Katrina, the National Insurance Crime Bureau (NICB) warned of unscrupulous contractors and others who prey on overwhelmed and numbed victims of natural disasters. "A common fraud scheme is for a 'so-called' contractor to convince a homeowner that a large deposit must be provided before repair work can begin", Robert M. Bryant, President and Chief Executive Officer of the NICB. explained. "Frequently, the job will be started, but not completed. These con artists are never seen or heard from again."
According to Time: Business & Money, "Fannie Mae and Freddie Mac said they will offer help to borrowers whose homes were damaged or destroyed, who live in designated disaster areas and whose loans the mortgage giants own or guarantee. Among other steps, mortgage servicers will be allowed to reduce the monthly payments of affected homeowners or require no payments from them temporarily".
Most homeowners who suffered losses from flooding won't be able to benefit from their insurance policies. Unless a homeowner has taken extra care, most standard homeowner policies do not cover flood damage, and too few homeowners affected by the superstorm have flood insurance. "Several hundred thousand homeowners are likely to file claims for wind damage and tens of thousands for flood damage", says Robert Hunter, director of Insurance for the Consumer Federation of America.
Destiny Homes has been building residential homes in the Minneapolis and St Paul residential communities and established relationships of trust with each client. Area residents needing a building contractor or luxury home remodeler and want to ensure they are protected from scams, should read testimonials first and call 952-934-5706 to meet in person and discuss your needs and concerns.