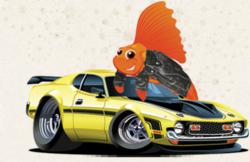 But this—the financial backlash on the victims—is well within our control, and something we certainly should act on.
New York, NY (PRWEB) May 11, 2013
RoadFish.com men's lifestyle and finance magazine today issued their support of New York Governor Andrew Cuomo's efforts in reaching out to credit bureaus on behalf of Hurricane Sandy victims in hopes of raising their lowered scores. RoadFish.com finds it unjust to allow victims of a natural disaster to incur black marks against their credit as a result of the financial strain said disaster brought about.
According to the Associated Press, victims of Hurricane Sandy had their homes destroyed and are now finding that their credit has taken a hit as well. South Beach Resident Allison Puglisi, still living in a hotel, stated that her lowered credit and financial scenario has been "just as stressful" as Sandy. The AP reports that New York Governor Andrew Cuomo is working on petitioning credit bureaus to take it easy on the storm victims. He pointed out that the storm caused a big financial strain for many, which resulted in mishaps such as missed mortgage payments, missed rent payments, or maxing out their credit cards on things like hotels and car rentals. Gov. Cuomo is quoted as saying, "If a person was a victim of a hurricane, it has nothing to do with their future ability to pay their bills."
RoadFish.com commends Gov. Cuomo for standing up for the victims' scores, especially because the implications of a lower score could stay with them for years and years to come. RoadFish.com's Senior staff writer is quoted as saying, "It's an incredibly unfortunate event [Hurricane Sandy] that occurred to innocent people, displacing them, injuring them, wreaking havoc on homes and cars and belongings. But in my eyes, it's an even bigger grievance for their credit to be impacted. We had no control over Hurricane Sandy, we were at the whim of Mother Nature. But this—the financial backlash on the victims—is well within our control, and something we certainly should act on. It could have happened to anybody. Imagine if it was your or my credit score that suffered because we were displaced or injured or paying to live in a hotel because our house was ruined. That doesn't mean we've made bad financial decisions, it just means we were in the wrong place at the wrong time at the mercy of a brutal storm."
According to the Associated Press, the state Department of Financial Services sent letters to the major credit bureaus last week as well as the Consumer Data Industry Association requesting that they be compliant in resetting the scores of those victims which have been lowered due to financial strife as a result of Sandy. As of the release of the article, the three major credit bureaus had not yet replied or commented on the request.
RoadFish.com hopes that the credit reporting agencies will work swiftly and together to remedy this issue. RoadFish.com petitioned the credit bureaus, saying, "Let's not turn the tragedy of Hurricane Sandy into anything worse than it already is. Enough damage has already been done, and we need to rally together to support the victims of such an unfortunate natural disaster. That includes cutting them some slack on their financial transgressions as a result of their great misfortune."
In the above-mentioned AP article, the official letter is quoted as saying, "No Sandy victim should face a black mark on their credit history simply because they caught a bad break from Mother Nature and got caught in the path of this destructive storm. As any family or business owner knows, an unfair black mark on a person's credit history can have serious, long-term financial consequences."
About RoadFish.com:
RoadFish.com is an online publication geared towards men in their 30's-40's who are moderately successful and enjoy reading about finance and lifestyle current events. RoadFish.com's topics include dating, hot chicks, short term investment options, and restaurant reviews. RoadFish.com also offers financial advice and reports on current events such as new credit laws like Colorado's credit report restriction law. RoadFish.com is owned and operated by Purpose, Inc.