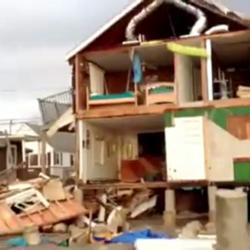 "A lot of people who flooded will not have insurance whatsoever. We are going to bring all potential housing solutions and look at what works best for each neighborhood." ~ FEMA chief Craig Fugate
Minneapolis, Minnesota (PRWEB) November 06, 2012
Hurricane Sandy brought destruction in all forms: wind, water, snow and fire. Today, Fitch Ratings released a statement of preliminary assessments saying it "believes that the global reinsurance industry's strong capitalization can absorb material expected losses from Hurricane Sandy. Furthermore, we do not anticipate substantive negative rating actions on a broad cross section of global reinsurers as a result of this event".
However, due to the scale and complexity of the event, rebuilding and disaster assistance in terms of insured losses remains highly uncertain. After the U.S. experiencing encouraging gains in the economy so far in 2012, partly led by the strong muscle of home builders, housing specialist are closely monitoring developments related to Sandy for any potential rating implications to reinsurers.
"Insured industry losses from Hurricane Sandy are estimated by catastrophe modeler EQECAT, Inc. to be in the range of $10 billion to $20 billion," continues Fitch Ratings.
Destiny Homes owner, Butch Sprenger advises, "Overwhelmed homeowners trying to comprehend the damage to their home, may find being displaced disconcerting, causing an added sense of urgency, This may make them vulnerable to building scammers who often demand large cash deposits, or push homeowners to sign a contract that might not be in their best interest. Don't fall for the 'we'll be too busy if you don't sign now' line. Don't be rushed into anything. Minnesota homeowners can learn from this that there best response is to be prepared as we head into winter. "
Gov. Andrew Cuomo said New York state is facing "a massive, massive housing problem" for those whose neighborhoods or buildings are in such bad shape that they won't have power for weeks or months. FEMA reported, "It killed at least 110 people. Out of this tragedy, there are stories of survivors pulling together, neighbors helping neighbors, and communities beginning to rebuild".
Reports of Hurricane Sandy are typical of Superstroms: chimneys were knocked sideways, for others it tore a roof off, started electrical fires, trees fell into homes leaving gaping sides and flooding. Exactly how homeowners handle the home repair process and insurance details when it comes time to file can help ensure receiving an adequate payout.
"Homeowners should not have to pay hurricane deductibles for damage caused by the storm," said Governor Andrew Cuomo of New York according to CNNmoney.com Governors Chris Christie of New Jersey and Daniel Malloy of Connecticut made similar statements, as did Maryland's insurance regulator. "Exceeding their authority isn't their intent, getting relief for hard-pressed homeowners is. A homeowner's policy is a contract between the homeowner and the insurance company's and if the contract is signed by both party's it is binding on both party's," says Sprenger.
Stories of the storm's victims left without heat serve as a reminder to Minnesotans that the best protection is preparedness. "There's really no amount of blankets that can stop you from being cold in 30-degree weather," said Cordova, 28 as reported by Cnn. "We feel a little homeless right now. We have our house, but we can't really use it."
The National Association of Home Builders (NAHB) predicts Hurricane Sandy will affect residential construction, which has been a leading industry contributing to the economy this year. "Remodeling activity is projected to jump, as homeowners who sustained damage to their properties, particularly primary residential homes, hire contractors to make immediate fixes." says NAHB.
This August after tornadoes destroyed Minneapolis homes, some homeowners were startled to learn that their insurance policy compensated them for their personal property loss based on their property's depreciated value, or "Actual Cash Value" and not on its replacement cost. Additionally, other homeowners do not find out until after water has inundated their home that home insurance policy didn't cover flood damage.
Homeowners still needing to care for home repairs and home renovation projects from Minneapolis and St Paul summer storms, or who wish to preparation for winter, can call Destiny Homes at 952-934-5706.