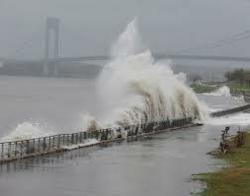 The damage Hurricane Sandy caused to many homes and properties has left homeowners wondering, "What next?"
USA (PRWEB) October 30, 2012
Hurricane Sandy ripped up the East Coast causing devastation in just about every state along the way. Some states experienced extreme flooding, other states heavy snow, and some areas nothing more than a little rain and wind. The damage Hurricane Sandy caused to many homes and properties has left homeowners wondering, "What next?" Foundation Armor a few helpful suggestions on dealing with the damage caused by Hurricane Sandy.
First, get your family to a safe place. Just because the storm has stopped, tree branches and trees can still fall, water can still cause flooding, etc.
◦Check for fallen power lines. If you have any on or around your house, make sure your chosen path of travel is safe and you stay clear of them. Call the power company immediately to report an emergency. If you can't get a hold of the power companies, consider calling the local fire department for advice on what to do.
◦If you haven't already lost power, verify that it is safe to have your power on. If you have a flooded basement, or if a tree fell through your house, you may want to consider shutting your power off. Water and electricity are not a good mix.
◦If you have a flooded basement, or if a tree fell through your house, you may want to consider shutting your gas and fuel lines off.
◦If you are able to, open your doors and windows. It is important to ventilate your house just incase fumes are building up inside.
◦Take lots of pictures and videos. Some insurance companies cover damages caused by natural disasters and others don't – but just to be safe, keep everything on record. If your insurance company is opened – home insurance, car insurance, etc. – try calling them and verify what exactly they need for your claim. Some insurance companies require you keep everything AS-IS and don't clean up until an insurance appraiser has had a chance to come out and look at the property and the damage.
◦Moves your cars, and other valuable items, away from trees or other things that could cause more damage.
After you have made sure your family and belongings are safe, it is time to deal with the damage.
◦Remove the largest threats first. If there are hanging tree branches, take care of those first. If a tree hasn't already hit your house, you don't want one to fall now!
◦If you have a flooded basement, you want to purchase a gas powered water pump or a submersible sump pump. View our article on basement flooding.
◦Check for cracks in your basement, slab, or foundation. Call a repair expert or use a DIY concrete crack repair kit.
◦If concrete becomes saturated for a long time, it can cause the pores within the concrete to expand. To help get the water out of the pores, and to help stop more water from entering, apply a waterproofing concrete sealer to your basement/slab/foundation walls and floor.
◦Soak up any water, dry out any carpets, dry out walls and ceilings, etc. The longer the water saturates these types of materials, the higher your risk for mold growth.
◦Cover up any broken windows with plastic, or a material that will help keep outside weather and materials outside – and will help protect what is left inside.
◦Check your roof for damage and make the appropriate repairs.
◦Check your decks and make sure all the support beams on properly in place and functioning.
◦Check your pool and other yard fixtures for damage.
◦See if your neighbor needs help.