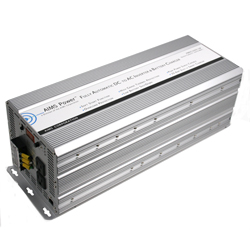 Millions left without power in the wake of Hurricane Sandy.
Reno, NV (PRWEB) October 31, 2012
In the wake of Hurricane Sandy millions of people will be without power. In an emergency like this, there are some important items to have on hand. The folks at AIMS Power and Theinverterstore.com specialize in emergency backup power solutions.
Bruce De Jong, President of AIMS Power offers a short list of must have items to keep people safe and comfortable during an extended power outage.
Hurricane Survival Items:

Water
Non-perishable food
Battery powered radio
Dry clothes and blankets
First aid kit
Deep cycle batteries
Cables to connect the battery to your vehicle
In the last two years, there have been two major storms that have hit the most populated areas of the United States. Millions of people have been caught unprepared. Their homes have been damaged because their sump pump had no power. Families were left without food, communication and lighting. There are lessons to be learned about emergency preparedness. De Jong offers some sound advice about emergency preparedness "If you think you might need it, you better make sure you have it before the outage. A couple of hours spent preparing will make families safer and more comfortable in a weather related outage."
In an emergency, you never know what you will need. Of course the main thing that most people go without is power. During an extended weather related power outage, vehicles can be used for power. People can use a power inverter connected to your vehicle to run appliances during an extended outage.
People can use an inverter charger to power a sump pump. An inverter charger is a great way for a homeowner to be prepared for any power outage. These units work automatically and are easy to install and maintain.
About Theinverterstore.com
Theinverterstore.com has been in business since 2006 and is located in Reno, NV. The Inverter store's online marketplace offers a complete line of dc to ac power inverters, inverter chargers, low frequency solar inverter chargers, solar panels, Kaco grid tie inverters, and MPPT solar charge controllers. The Inverter Store's professional staff can help consumers decide how much backup power they will need. Also they can help customers design their own system. The Inverter Store offers both modified sine wave inverters and pure sine wave inverters, in 12 volts, 24 volts and, 48 volts. Visit the store online at http://www.theinverterstore.com.