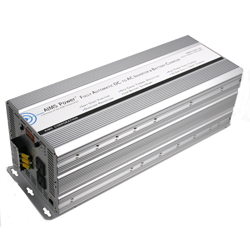 It's simple to prepare for a power outage. You only need a few essential items, including a power inverter.
Reno, NV (PRWEB) October 27, 2012
Every year millions of people are caught unprepared for hurricanes and other weather related power outages. In 2011, Hurricane Irene left over 7 million household without power for days after the storm. There are many ways to prepare for an extended outage. Theinverterstore.com specializes in back up power and helps thousands of people prepare for storms every year. They have released a new video about how to prepare for power outages.
Here is a checklist of survival items that people might need during a power outage.

Drinking water
Non-perishable Food
Flashlights
Weather radio
Power inverter
Back up battery bank
Portable heaters
Many people overlook these essential items, because the chance of an extended outage is very small. According to Sean Nichols from theinverterstore.com "It's important to have emergency supplies on hand, to keep families safe and comfortable in an emergency." With the threat of a winter snow storm and a hurricane hitting back to back, people should be on alert and spend a little time preparing.
Theinverterstore.com recommends that you have a power inverter on hand, to keep your refrigerator running during an extended outage. A power inverter is a simple way to keep food from spoiling and make sure people reamin comfortable during the outage. An inverter can also be used to run a heater or lights in a home when the power is off. For more information please visit our Hurricane Sandy preparedness page.
About Theinverterstore.com
Theinverterstore.com has been in business since 2006 and is located in Reno, NV. The Inverter store's online marketplace offers a complete line of dc to ac power inverters, inverter chargers, low frequency solar inverter chargers, solar panels, Kaco grid tie inverters, and MPPT solar charge controllers. The Inverter Store's professional staff can help consumers decide how much backup power they will need. Also they can help customers design their own system. The Inverter Store offers both modified sine wave inverters and pure sine wave inverters, in 12 volts, 24 volts and, 48 volts. Visit the store online at http://www.theinverterstore.com.