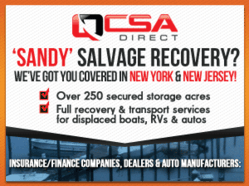 We are operational at both NJ facilities, actively picking up and preserving vehicles and boats.
Eldridge, IA (PRWEB) November 12, 2012
Eldridge, IA – QCSA Holdings, Inc., a leading vehicle remarketing and total loss claims management company, announced that it has opened 2 full service salvage recovery facilities under its subsidiary QCSA Direct in the state of New Jersey in response to Hurricane Sandy.
Located in both the northern and southern regions of the state, QCSA Direct's fully secured facilities contain over 250 acres of outdoor storage, as well as indoor inspection areas and reconditioning facilities. Full recovery services and equipment are available for RVs and boats including submerged vessels, large yachts, sailboats, and other marine products in areas from New York to Virginia affected by Hurricane Sandy. Transportation services for small to oversized vessels and full preservation/winterization services are also available.
"Our experience in managing catastrophe losses for the insurance industry dates back to the opening of Salvage Direct in 1999" stated John Lindle, CEO of QCSA Holdings, Inc. "We are very fortunate to be able to provide these needed resources and lend our expertise to our customers and other insurers that may need assistance in the aftermath of Hurricane Sandy."
Simon Smock, Director of CAT Loss Services added, "Our CAT Loss teams have already been deployed and are on the ground. We are operational at both facilities and actively picking up and preserving vehicles and boats."
Over the past 13 years QCSA Direct and Crashed Toys have provided complete recovery, preservation, and remarketing services for hurricane salvage vehicles throughout the United States. QCSA Direct's Crashed Toys division is one of the nation's foremost experts in preserving and remarketing flooded and total loss boats, RVs and travel trailers.
QCSA Direct has the resources necessary to accept vehicles damaged by Hurricane Sandy and we are actively seeking out these vehicles for salvage remarketing. If you are an insurance company, dealer or auto manufacturer please contact our Hurricane Sandy Recovery Leader, Warren Hart at (707) 266-2987 or warren.hart@qcsa.com.
Additional details are available at QCSA Direct Hurricane Sandy Salvage Vehicle Recovery Page or Watch Hurricane Sandy CAT Recovery Team Damage Tour Video for our firsthand look at the damage in the New Jersey area.
About QCSA Holdings: QCSA Holdings, Inc. is a national vehicle remarketing company specializing in Insurance Total Loss and Late Model Specialty vehicles. Operating under its subsidiary brands QCSA Direct and Crashed Toys, QCSA Holdings provides innovative remarketing solutions to Auto Insurers, Banks, Fleets and Auto Donation programs.