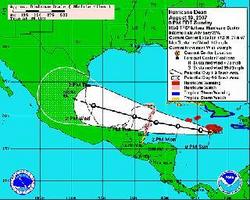 People were waiting so long that not even the planes could get off the ground
New York, NY (PRWEB) August 20, 2007
Imperial Jets has contacted all aircraft operators in Texas and its surrounding areas to ensure no one is left behind in the event that Hurricane Dean puts Texas under dangerous Hurricane conditions.
Hurricane Dean projected path computer models indicate that Hurricane Dean will arrive in Mexico by the Texas border on Wednesday at 2 pm.
According to the Governor's press office, President George W. Bush today issued a federal disaster declaration for the State of Texas and the City of Brownsville has ordered voluntary evacuations.
Thomas Tamulinas, who arranged private jet charters for people who needed to evacuate New Orleans and Florida during Hurricane Katrina, said people who secured their flights early were able to successfully vacate the threatened regions.
"People were waiting so long that not even the planes could get off the ground," remembered Tamulinas. "People were taking whatever was available."
Tamulinas is administrating a 24-hour hotline that is being used to help people arrange travel around the afflicted areas of Jamaica and other parts of the Caribbean. He has volunteered his cell phone to allow everyone a fair opportunity to secure immediate aircraft availability: 917 596 6527.
Access the rest of the Hurricane-Watch team via the Imperial Jets 24-Hour Hurricane Dean Hotline 1 888 599 JETS, or by requesting a quote at http://www.ImperialJets.com.
###