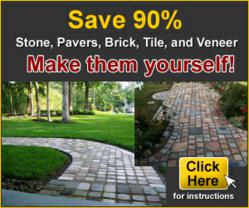 Port Charlotte, Florida (PRWEB) November 30, 2012
John Panagos, the founder of Olde World Stone & Tile Molds, Inc., a small Port Charlotte, Florida concrete mold manufacturer and marketer for over 20 years, has committed to donating 2% of their total December sales receipts to the Salvation Army Hurricane Sandy Relief Fund. John was born and grew up in Paterson, NJ and prides himself on being what he describes as a true Jersey Boy. "I am a real Jersey boy, not somebody brought in from NY to do a TV show. We were nothing like what is portrayed on TV's Jersey Shore series. We went down the shore as young adults just about every weekend--- and we never acted like thugs", John adds with a grin. John feels that he now has a chance to give back a little to his home State for all of those great summers spent "down the shore", as they say in New Jersey.
In addition to donating 2% of his company's December dollar sales, John is creating a Salvation Army "Red Kettle" through the Salvation Army's Red Kettle Internet donation program. John plans to tap into their 8,000+ customer base who subscribe to the company's monthly newsletter, as well as through other sources and social media to support this cause. "I have always supported the Salvation Army privately and behind the scenes. I know first-hand the dedication and great work of this fine organization. I also know that every dollar that we can help raise or contribute goes directly towards helping people. There are no high-paid consultants, management, or commissioned fund raisers, like those found in so many other charity organizations", John stated.
The Internet marketing arm of Olde World Stone, TheMoldStore.com, will be donating 2% of their sales for the month of December to the Salvation Army to help the people of his home State of New Jersey. "We are a small company, but want to do something to help" said John. He adds, "And who better to funnel that help through than The Salvation Army." John shared his stories of when as a child his family was so poor that if it wasn't for The Salvation Army and his local church helping his family with boxes of food on holidays, they wouldn't have had anything to eat. "I still remember the excitement and joy of that knock on the door just before Thanksgiving and Christmas when a box filled with food would be dropped off, so we could have a nice meal for the holiday", explained John. He then added that sometimes they would get a voucher to the local A&P Food Store on Market Street in Paterson, NJ for $15.00 from them. "You have no idea how much food that $15.00 would buy back in the fifties. Heck, my mom would bring home her $5.00 or so tips from being on her feet all day as a waitress and that's what we normally lived on. That $15.00 for food would feed us through the new year most times." John added with a sad smile.
John's companies, Olde World Stone & Tile Molds, Inc, and TheMoldStore.com, manufacture and market concrete molds to make stone veneer, cement tile, pavers, brick veneer, and other concrete building products that can save the user 90% off of the normal retail prices for these products. They market their products world-wide through The Mold Store eStore website, and on-line retailers like Ebay, Amazon, Bonanza, and other retail eStore websites. The company has been in business for over twenty years, and enjoys a large world-wide following and customer base. Most of their customers are homeowners, crafts people, and other do-it-yourself consumers, so John is anticipating strong support for this cause.