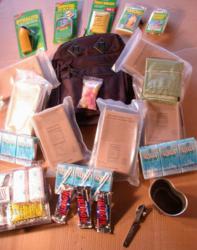 We have a long way to go until the end of the season, and we shouldn't let our guard down.
Fulton, NY (PRWEB) August 11, 2012
With this year's Atlantic hurricane season off to a busy start, with six named storms to date, the NOAA is saying that the second half has a 35 percent chance of being an above-normal season, though there is still a 50 percent chance of a near-normal season. CampingSurvival.com is issuing a general reminder for residents of areas affected by these storms to prepare ahead of time, to avoid being a drain on emergency services.
Across the entire Atlantic Basin for the season – June 1 to November 30 – NOAA's updated seasonal outlook projects a total of 12-17 named storms, 5-8 hurricanes, two or three of which could be major hurricanes (Category 3, 4 or 5, with winds of at least 111 mph). This forecast includes the activity-to-date of tropical storms Alberto, Beryl, Debbie, Florence and hurricanes Chris and Ernesto.
"We are increasing the likelihood of an above-normal season because storm-conducive wind patterns and warmer-than-normal sea surface temperatures are now in place in the Atlantic," said Gerry Bell, Ph.D., lead seasonal hurricane forecaster at the Climate Prediction Center. "These conditions are linked to the ongoing high activity era for Atlantic hurricanes that began in 1995. Also, strong early-season activity is generally indicative of a more active season."
Tom Sciacca, President of CampingSurvival.com, implored residents to be prepared.
"During a major storm, and especially during a hurricane, emergency service personnel are stretched to the maximum," he said. "The better you prepare ahead of time, the less likely you'll be to find yourself and your family in a life threatening situation."
CampingSurvival.com is a one stop shop for urban survival gear that enables families to be self-sufficient during critical times, including items such as first aid kits, MRE (Meals Ready to Eat), emergency water storage, paracord and other items.
"Being prepared means having an emergency plan for your family, and obtaining your supplies well in advance – not at the last minute," Sciacca said. "We strongly recommend that people have a pre-packed 'go-bag' to enable them to evacuate quickly, as well as separate emergency supplies for hunkering down if you get stuck."
A go-bag is a kit of essential supplies, including food (such as MRE), water, First Aid kit, rain poncho, flashlight and other supplies that can be loaded into a vehicle quickly during a storm evacuation. On the other hand, people who decide to "ride out" a storm must have far more supplies in their homes than would fit in a go-bag, due to the fact that they may be without power for days, if not weeks. In such a situation, it is essential to have enough food for all family members and clean water for drinking, washing, food preparation and bathing.
"We have a long way to go until the end of the season, and we shouldn't let our guard down," said Laura Furgione, acting director of NOAA's National Weather Service.  "Hurricanes often bring dangerous inland flooding as we saw a year ago in the Northeast with Hurricane Irene and Tropical Storm Lee. Even people who live hundreds of miles from the coast need to remain vigilant through the remainder of the season."
"It is never too early to prepare for a hurricane," said Tim Manning, FEMA's deputy administrator for protection and national preparedness. "We are in the middle of hurricane season and now is the time to get ready. There are easy steps you can take to get yourself and your family prepared."
"Even if you're not directly in the path of a big storm, you may have friends and loved ones who are," Sciacca noted. "Remind them of the importance of hurricane preparedness and even think about sending them supplies. Our CampingSurvival.com customer service representatives are fully equipped to offer suggestions and would be happy to help."
Sciacca, a former Marine and veteran of the 1991 Gulf War, launched CampingSurvival.com in 2002, and quickly earned a reputation as an online authority on camping, wilderness survival and urban survival gear, creating a loyal following of customers.