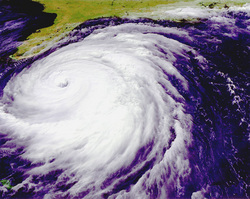 We are working with many cities that have adopted cloud computing to manage their community development processes and these cities are better prepared for continuity after a natural disaster like a hurricane
Vancouver, BC (Vocus) August 21, 2009
BasicGov recommends adding web-based software to local government's community development departments to help with data protection and recovery for hurricane contingency planning.
A key feature of cloud computing is that users' information is housed in multiple, geographically dispersed data centers that provide extensive backup, data archive and failover capabilities. This includes a multi-level backup strategy of disk-to-disk-to-tape data backups which ensure maximum recovery speed with minimum potential for data loss. Major suppliers of cloud computing infrastructure such as Salesforce.com provide very high levels of service availability through virtualized servers at multiple data centers. Users of web-based services have both their data and server availability protected in the event of a natural disaster.
"We are working with many cities that have adopted cloud computing to manage their community development processes and these cities are better prepared for continuity after a natural disaster like a hurricane," said David Roberts, President & CEO with BasicGov. "If a city that uses cloud computing to manage its community development department had the misfortune to lose all its IT equipment in a hurricane, it could start the task of rebuilding the next day from any location using laptops and an Internet connection."
Download related white paper for more information.
About BasicGov
CloudBench Applications, Inc. (TSX VENTURE: CBH) develops, sells and supports BasicGov, affordable web-based software used by cities and local governments to streamline their permits and inspections, code enforcement and planning processes. BasicGov is a reliable, secure solution delivered for an affordable price and the only web-based software for local governments built on Force.com, the cloud computing platform from SalesForce.com used by more than 55,000 organizations worldwide. BasicGov software requires only an Internet connection and a browser. Users pay a monthly subscription fee of $119 per module and no capital investment is required. http://www.basicgov.com
Media contact: Susan Kirk, Susan(dot)kirk(at)basicgov(dot)com, 1.604.315.9959
Sales contact: Roula Fredrikson, roula(dot)fredrikson(at)basicgov(dot)com, 1.866.999.1846 ext. 1
###