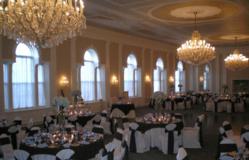 Jay Podolsky "Our hotel offers the largest ballroom space in South Jersey, so its a great way to offer back services to the community for this great cause"
Asbury Park, New Jersey (PRWEB) December 14, 2012
Stuart and Jay Podolksy of The Berkley in Asbury Park, New Jersey are proud to announce they donated their Ballroom to the Scissors for Sandy haircut fundraiser to help raise funds for Hurricane Sandy relief.
"The fury of Hurricane Sandy wrecked entire communities, destroyed countless homes and displaced thousands of people, leaving them without essentials, food, water, baby supplies and more," said Stuart Podolksy. "My brother and I were looking to help, and this seemed like an ideal way to do so."
Salon owners and stylists decided to participate in the massive Scissors for Sandy cut-a-thon to provide relief to the thousands of individuals and devastated families.
Hotelier brothers Stuart and Jay Podolsky jumped on the idea and donated their hotel ballroom space to hold the Scissors for Sandy cut-a-thon, which donated all proceeds to Hurricane Sandy relief efforts in the area.
"We really wanted to see this be a success, and were quite pleased with how things turned out," said Jay Podolsky. "The turnout was great and I think we really accomplished something wonderful here."
The event took place this past Monday in the ballroom of the hotel; hairdressers united to offer haircuts for a minimum $40 donation.
All proceeds will benefit Hurricane Sandy relief organizations Hometown Heroes Restore the Shore and the Stephen Siller Tunnel to Towers Foundation.
Donating is not something new to Stuart and Jay Podolsky. A few days after Sandy, Stuart Podolsky decided to offer temporary housing to displaced residents in his NYC hotels.
The Berkeley Hotel is managed by Amsterdam Hospitality Group.
For information about the Berkeley Hotel, please visit http://www.berkeleyhotelnj.com.