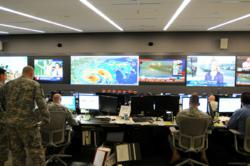 St. Petersburg, FL (PRWEB) September 02, 2011
US Federal Contractor Registration is now assisting vendors with FEMA registration in order to find and compete for Hurricane Irene FEMA contracts.
Although Hurricane Irene is long gone, the Eastern Seaboard is still recovering from wind and flood damage caused by the historic storm. Fourteen states have been impacted to some degree and contractors are needed to assist in relief and recovery efforts.
Over a million customers are still without power as of Wednesday afternoon and flood advisories were still in effect for some regions. Many roads and bridges are still damaged, cutting off some communities from supplies.
FEMA, along with other departments and agencies, has been coordinating with federal, state and local governments in order to help impacted regions access supplies and begin rebuilding damaged structures and roadways.
Vendors across many industries are urged to prepare for upcoming contracting opportunities to aid in disaster relief and rebuilding efforts. While there will certainly be a need for debris removal, construction services and emergency supplies, there will also be a demand for other goods and services as well. Businesses are urged to complete their registration as soon as possible in order to meet the needs of federal, state and local governments affected by the storm.
In order to be considered eligible for any federal contracts, vendors must have a DUNS number and have completed their CCR registration and ORCA. For FEMA contracts, businesses must also complete a FEMA Vendor Profile as well. Vendors are also strongly encouraged to complete their Dynamic Small Business Search profile. Failure to complete all these steps prior to bidding may cause costly delays or even result in losing a contract award to another business.
To help businesses quickly prepare for FEMA contracts, US Federal Contractor Registration now also helps their clients complete the FEMA Vendor Profile, in addition to assisting them with their CCR and ORCA registration. US Federal Contractor Registration's government marketing services also include the creation of a Dynamic Small Business Search profile for the vendor.
Most of the United States Eastern Seaboard and surrounding states have been affected in some way by Hurricane Irene. Connecticut, Delaware, the District of Columbia, Maine, Maryland, Massachusetts, New Hampshire, New Jersey, New York, North Carolina, Pennsylvania, Rhode Island, Vermont and Virginia have all been affected to some degree by this massive storm system. To date, there have been at least 43 deaths attributed to Hurricane Irene, from Florida to New England. Vermont has experienced the worst flooding the state has faced since 1927. Many other regions experienced severe flood water and wind damage. Millions of households are without power. Approximately 2,500 residents of North Carolina's Hatteras Island were stranded after Highway 12 was severely damaged by the storm surge.
FEMA contracts are just one of the many ways that business owners can provide aid and assistance to the families and businesses affected by disasters. In order to take advantage of this opportunity however, contractors should act quickly to complete the necessary registration and start bidding on available contracts.
US Federal Contractor Registration is the official third-party registration firm. We offer businesses the option to work with a case manager to complete and maintain their CCR registration and ORCA filing for one year, as well as complete their FEMA Vendor Profile in order to qualify for FEMA contracts. Visit our blog at http://governmentcontractingtips.com to get more information about registration and FEMA contracts.
###