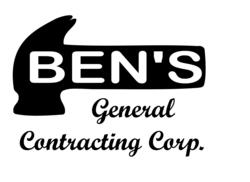 Our sympathies go out to all of those whose lives were disrupted and whose homes and businesses experienced property damage. We're here to help. We're here to rebuild.
Baldwin, NY (PRWEB) April 15, 2013
Hurricane Sandy hit nearly six months ago, but the devastating effects of the "superstorm" are still evident on the South Shore of Long Island. Many homes and businesses were damaged and have yet to be repaired. There is now a solution for those wanting to rebuild. A longstanding member of the Long Island community, residential and commercial contracting and construction company Ben's General contracting Corp. announces their unique Hurricane Sandy Rapid Repair Construction Program. The program was built to help Long Island communities on the South Shore rebuild, repair and restore their Long Island homes and businesses.
"New York tri state area residents are still picking up the pieces from Hurricane Sandy. We are here to rebuild. Our Rapid Repair Construction Program is meant to make that process go quickly, whether it is a repair or a complete rebuild for a home or business," says owner Ben Jackson.
The residential/commercial general contractors have been trusted by Long Island and New York residents for more than 33 years, and Ben's is the only company with a Hurricane Sandy Rapid Repair Program. Ben's has already completed a number of Hurricane Sandy restorations, and with nicer weather soon approaching, knows that more people might be ready to take care of the needed repairs. Ben's prides itself on being the premier Long Island Sandy storm damage contractors who are licensed, insured and bonded, with a fleet of fully stocked vehicles and trained crews available immediately.
Jackson said, "Our sympathies go out to all of those whose lives were disrupted and whose homes and businesses experienced property damage. The Hurricane sandy storm was devastating with a whopping $50 billion in estimated losses from property damage, lost business and additional living costs. It's now almost six months later, and many communities are rebuilding. We're here to help."
With all of their years of experience, the Sandy Storm damage contractor is well aware of residents' concerns and is able to help their customers get through roadblocks. Ben's can help with the endless battles with the insurance companies and banks to insure you get what you deserve and need to rebuild. Furthermore, they are experts in code compliance and permitting and strive to do their work cost effectively, and to stay on budget, whether they are doing home or commercial construction.
Ben's also works with local volunteer organizations and churches if you don't have insurance and have limited or no income. "Everyone should have a fair chance to repair and rebuild. It's important to support the community," says Jackson.
For more information about Hurricane Sandy contractors and construction services available, please visit bgccorp(dot)com or call (516) 623-2945 for a free hurricane repair estimate.
About Ben's General Contracting Corporation:
Local, Baldwin, NY based commercial and residential contractors serving the Long Island and New York community for all phases of construction from repairs to restorations to complete rebuilds. Ben's is licensed, insured, bonded and known in the community for its attention to details, personal touch and on time, on budget projects. Ben's has proudly served the Long Island community since 1980. Convenient to: Freeport, NY, Long Beach, NY, Oceanside, NY, Baldwin, NY, Bay Colony, Baldwin, Baldwin Harbor, Island Park, South Shore Long Island, Nassau county south shore, Lindenhurst, Bellmore, Massapequa, Wantagh, Seaford, Massapequa Park, Rockaway, East rockaway, Hewlett, 5 towns, and Lawrence.