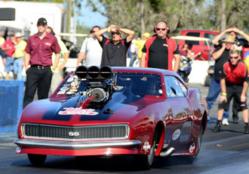 Adam will be driving the Hurst sponsored car in the 8th Annual US Street Nationals at Bradenton, FL January 27-29, 2012; the 18th Annual Snowbird Nationals at Orlando, FL Jan. 31st – Feb. 5th, 2012; as well as all ten events in ADRL 2012 (Pro Mod)
Coolidge, GA (PRWEB) January 17, 2012
Hurst Boiler is proud to once again be a sponsor of the Adam Flamholc Racing team for the 2012 NHRA Championship Drag Racing (quarter mile) and ADRL (American Drag Racing League eighth mile) racing seasons.
"We first became involved with Adam Flamholc Racing 4 years ago after seeing him race in Richmond, VA," said Jeff Hurst, VP Sales & Marketing of Hurst Boiler & Welding Co., Inc. "Each time Adam has raced in the US, Hurst Boiler has participated in sponsoring him. Adam is proudly displaying the Hurst logo on the front of the Flamholc racecar for the 2012 season. And I have to say that the flame in our logo suits drag racing very well!"
Adam Flamholc has been a licensed dragster since 1991. In 2005 Adam stepped up from sportsman racing to the professional class called Pro Stock. With the help from sponsors including Hurst Boiler, Flamholc Racing became the first team outside the US to run a 6.60's time in the class. In their first year in the FIA European Dragracing championship, Flamholc racing finished number three in the points, and won the European finals at Santa Pod (in England) in 2011. At the same event they also took the European record (5.96s).
In 2008 Flamholc Racing moved into Pro Mod, or Pro Modified, a class or division in the sport of drag racing used in the NHRA (quarter-mile) and the ADRL. ADRL will feature Pro Mod racing for its 2012 season. Boasting a doorslammer racing history, featuring full-bodied racing sedans that are replicas of production vehicles, the widely-popular Pro Mod class will mix supercharged, nitrous and turbo cars into one incredibly competitive division, adding even more excitement to the ADRL's thrilling race schedule.
Come out and see the Flamholc Racing team. Adam will be driving the Hurst sponsored car in the upcoming 8th Annual US Street Nationals at Bradenton, FL January 27-29, 2012; the 18th Annual Snowbird Nationals at Orlando, FL Jan. 31st – Feb. 5th, 2012; as well as all ten events in ADRL 2012 (Pro Mod) beginning March 30 at Baytown, TX.
"This is really something we have dreamed of," said Adam. "None of this would have been possible without our business partners. A very big thank you goes out to our main sponsors: Hurst Boiler & Welding Co. and Amalie Oil."
About Hurst Boiler
Hurst Boiler & Welding Company, Inc. has been manufacturing, designing, engineering and servicing gas, oil, coal, solid waste, wood, biomass and hybrid fuel-fired steam and hot water boilers since 1967. With installations across all industries worldwide, Hurst Boiler is recognized for the highest code standards, innovative engineering and design, Energy Star rating, and renewable, sustainable solutions for green building design and operational efficiency. Visit http://www.hurstboiler.com or call (877) 994-8778. Watch the Hurst Boiler video on YouTube.
About Flamholc Racing
Flamholc Racing is a professional Swedish-based Pro-Mod team in Europe and the US. For information about Adam Flamholc and the Flamholc Racing team visit http://www.flamholcracing.com. Racing schedules can be found on the Events page of the team's website. Read a recent news release about the upcoming racing year. Watch a start-up video featuring the new car and a race video featuring the 2011 version of the Hurst sponsored car on YouTube.com.
###