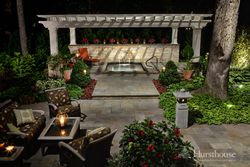 "There is a special honor in being asked to design a returning client's new homestead, especially when it is intended to be their Forever Home." Bob Hursthouse
Bolingbrook, IL (PRWEB) June 22, 2010
Hursthouse Landscape Architects and Contractors recently received its ninth Illinois Landscape Contractors Association [ILCA] Gold Award. Designed for a Hursthouse client's home in Downers Grove, Illinois, ILCA honored the project with a Gold Award for "Excellence in Landscape" in the Residential Landscape Construction category. Designed to be a "Forever Home" throughout the seasons of nature and life, the winning landscape features spaces to relax, entertain, play and garden. Hursthouse, Inc. is an award-winning landscape architecture and contracting firm with clients in the Chicago area, throughout Illinois and around the Midwest. View Hursthouse's gallery at http://hursthouse.com .
Award Winning Landscape Design Elements
Designed and constructed for an existing Hursthouse client, Bob Hursthouse says, "There is a special honor in being asked to design a returning client's new homestead, especially when it is intended to be their Forever Home. The needs of a maturing family, a healthy wish list of constructed elements, and the goal of a comfortable floor plan full of seasonal amenities inspired this project. Past successes experienced at the homeowner's previous property continued as the new landscape took shape and preserved the site's oak canopy."
The new garden's bluestone-paved floor plan offers outdoor kitchen, dining, lounging, and water garden amenities. Generous planting beds provide soft contrasts to the paving, preserving maximum growing space for the canopy tree roots. Masonry seat walls and a fire pit accent the home's patterned Lannonstone, while a traditionally-styled garden fence assists evergreen and deciduous planting in providing a softened framework of privacy about the garden. Above the heated in-ground spa, a wide-spanning pergola and Lannonstone garden wall frame an integrated water weir accent.
The open lawn beyond the terrace provides an active play area for children, and serves as a foreground to the meandering woodland strolling garden that weaves through additional layers of evergreen, deciduous and flowering plantings. Nighttime lighting extends the garden's reaches into the evening hours, inviting the clients to enjoy their Forever Home for every season to come.
About Illinois Landscape Contractors Association (ILCA)
Since 1959, ILCA has provided its members with the resources needed to enhance their performance and ensure continued growth and success. The Association's mission is to enhance the professionalism and capabilities of members by providing leadership, education and valued services while promoting environmental awareness within the landscape industry. ILCA is a 501 (c) (6) nonprofit trade association with more than 800 member companies. Bob Hursthouse is an ILCA past president and was named ILCA Man of the Year for 2004. Jeff True, vice president of operations at Hursthouse Inc., currently serves on the ILCA Board of Directors.
About Hursthouse, Inc. Landscape Architects and Contractors
Founded in 1990 on a culture based on vision, integrity and performance, Hursthouse, Inc. creates landscapes that connect clients' values and lifestyles to their environment. Based in Bolingbrook, Hursthouse design projects number approximately 1,000 landscapes throughout Chicago's western suburbs. Bob and Robbi Hursthouse, the firm's co-founders, live in Naperville, Illinois. In 2009, the Naperville Area Chamber of Commerce named Hursthouse, Inc. the Small Business of the Year and Bob Hursthouse won HGTV's "Landscapers' Challenge" (2007). To interview Hursthouse team members about landscape design, outdoor living or sustainability, contact Terre Houte at 630.759.3500 or email thoute(at)hursthouse(dot)com. To browse images for publication, visit http://hursthouse.com .
###