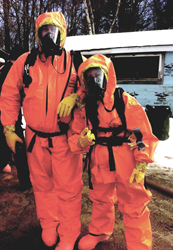 The growing, alarming, and unprecedented increase in heroin and methamphetamine distribution in Maine is affecting both our rural and urban communities.
Bangor, Maine (PRWEB) April 08, 2016
This year, the Third Annual Women's Philanthropy Council Lecture at Husson University will be featuring a presentation by two distinguished criminal investigators. On Thursday, April 14, 2016 at the Gracie Theatre, Jason Pease, a special agent with the Maine Drug Enforcement Agency, and his sister-in-law Maria Pease, a chemist with the State Health and Environmental Testing Lab, will be talking about the role of forensic science in putting criminals behind bars. A reception kicks off the event at 5:30 p.m. and is followed by their presentation at 6:00 p.m.
"While the movies and television often portray undercover work as both fast-paced and exciting, in the real world, criminal investigations often require long hours, painstaking attention to detail and the meticulous application of scientific principles as part of gathering evidence," said Jason. "The dedicated men and women of law enforcement who understand science play a vital and important role in bringing criminals to justice."
Both Jason and Maria are involved in helping to eliminate the scourge of illegal drugs in our community. As part of this presentation, the Peases will talk about the roles they have played in the arrests and convictions of meth and heroin dealers.
Methamphetamines and heroin continue to be a significant problem in Maine. According to Maine Drug Enforcement Agency Director Roy McKinney, his agency conducted 50 percent more heroin investigations in the first 11 month of 2015 than it conducted during the entirety of the previous year. In addition, methamphetamine arrests from 2010 – 2014 more than doubled from 30 to 63.
"The growing, alarming, and unprecedented increase in heroin and methamphetamine distribution in Maine is affecting both our rural and urban communities," said Lynda Rohman, director of planned giving and Husson University Women's Philanthropy Council liaison. "Many of the programs at our university are dedicated to improving the health of our rural communities. Helping young people understand the depth of the drug problem and the actions being taken to combat it are part of our educational mission. If we can inspire just one young person to help in the effort to eradicate drugs from our community, this lecture will have made a difference."
If you are interested in attending this upcoming presentation, please contact Amanda Cummings in Husson University's Office of Alumni Relations at 207-941-7875, cummingsa(at)husson.edu or visit Husson.edu/AlumniEvents.com. The event is free and open to the public.
The Woman's Philanthropy Council (WPC) is a vital part of Husson University's engagement efforts. By bringing together talented groups of community leaders, alumni and friends of the university, the Woman's Philanthropy Council, inspires women and others to share their time, talent and resources with Husson for the benefit of our society and future generations. The Council is engaged in the pursuit of academic excellence through efforts to strengthen women's roles in philanthropy, professional networking, and career development. To date, the WPC has created the Quality Enhancement Fund, the Scholar Enhancement Fund and the Student Scholarship Fund. Each of these funds is designed to enhance educational opportunities at Husson University.
For more than 100 years, Husson University has prepared future leaders to handle the challenges of tomorrow through high quality undergraduate and graduate degrees. With a commitment to delivering affordable classroom, online and experiential learning opportunities, Husson University has come to represent superior value in higher education. Our Bangor campus and off-campus satellite education centers in Southern Maine, Wells and Northern Maine provide advanced knowledge in business; health and education; pharmacy studies; science and humanities; as well as communication. In addition, Husson University has a robust adult learning program. For more information about educational opportunities that can lead to personal and professional success, visit Husson.edu.