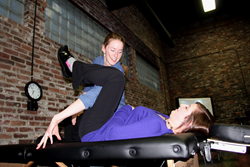 I left my treatment sessions very pleased. I feel confident that the students I interacted with will go on to become great physical therapists.
Bangor, Maine (PRWEB) October 06, 2015
In the spirit of community service, Husson University graduate students are offering free physical and occupational therapy services to anyone, of any age, who needs treatment but cannot afford to pay for it themselves. Known as SOARing Eagles Healthcare, this pro-bono clinic is being held in conjunction with Dragonfly Therapy.
An open house for the SOARing Eagles Healthcare clinic is taking place on Tuesday, October 6 from 6 – 8 pm at Dragonfly Therapy at 840 Hammond Street, Suite 2, Bangor, ME.
"We want to be part of the solution for anyone suffering from sports or activity related injuries; motion or strength limitations; headaches; functional disabilities or post-surgical pain and loss of function," said Kimberly Steinbarger, PT, MHS, Academic Coordinator of Clinical Education in the College of Health and Education at Husson University. "We invite anyone in need to physical or occupational therapy to come to our open house, learn about our services, have your blood pressure, heart rate, and fall risk assessed, or make an appointment for treatment."
Husson graduate students will be providing the physical and occupational therapy treatments under the supervision and oversight of licensed therapists. The sessions are a great way for students to get hands-on experience in actual physical and occupational therapy treatment settings as they simultaneously help underinsured and non-insured Bangor-area residents suffering from pain and movement dysfunctions.
Since the pro-bono clinic began operations, public reactions have been overwhelmingly positive. Comments from consumers who participated in anonymous post-treatment surveys included:

"The students are extremely attentive, communicative and knowledgeable about body posture, problem identification and treatment options."
"Equal to working with a certified physical therapist!"
"I left my treatment sessions very pleased. I feel confident that the students I interacted with will go on to become great physical therapists."
In reflecting on the success of last semester's efforts, Steinbarger estimates that the participating students provided the equivalent of 218 units of physical therapy. "This added up to over $12,000 worth of service provided to 11 individuals on a pro-bono basis."
Anyone interested in learning more about SOARing Eagles Healthcare or scheduling an appointment should email soaringeagleshealth(at)gmail(dot)com or contact Kimberly Steinbarger, PT, MHS, at 207-941-7181. Appointments are available on Thursdays from 6:00 p.m. – 8:00 p.m.
Husson University's School of Physical Therapy provides the advanced knowledge students need to become skilled and knowledgeable practitioners who collaborate with a patient's health care team to help manage and alleviate pain. The educational program consists of a three-year pre-professional phase, followed by a three-year professional phase leading to a Doctor of Physical Therapy and a Bachelor of Science in kinesiology.
Husson University's School of Occupational Therapy prepares generalist practitioners interested in engaging in client-centered contemporary practice and scholarship. The school offers an entry-level master's program, leading to the Master of Science in occupational therapy with a Bachelor of Science in health care studies.
The facilities at Husson University include a designated physical and occupational therapy lecture rooms and labs, a cadaver dissection lab, excellent library resources and wireless computer access.
For more than 100 years, Husson University has prepared future leaders to handle the challenges of tomorrow through innovative undergraduate and graduate degrees. With a commitment to delivering affordable classroom, online and experiential learning opportunities, Husson University has come to represent superior value in higher education. Our Bangor campus and off-campus satellite education centers in Southern Maine, Wells and Northern Maine provide advanced knowledge in business; health and education; pharmacy studies; science and humanities; as well as communication. In addition, Husson University has a robust adult learning program. For more information about educational opportunities that can lead to personal and professional success, visit Husson.edu.