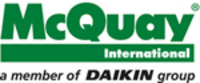 We are a cohesive sales team with over 100 years of combined experience in the HVAC industry
Minneapolis, MN (Vocus) April 23, 2009
McQuay South Florida, a new factory-owned sales and service office, will offer McQuay International's heating, ventilating and air conditioning products, systems and services to industrial, commercial and institutional customers in the six-county southern Florida area. The new sales organization, located in Fort Lauderdale, is headed by Victor Baumzweig, district sales manager, who has over 26 years of experience in the HVAC sales industry.
"We are a cohesive sales team with over 100 years of combined experience in the HVAC industry," said Baumzweig. "We possess a unique combination of technical knowledge, including LEED® AP personnel, project design/management experience and established relationships. Our new one-stop factory sales and service location allows us to respond immediately to the needs of our mechanical contractors, consulting engineers and end-user customers, whether they require a single replacement unit or a complete sustainable HVAC system for a new building."
"The McQuay South Florida office is the latest step in expanding our support for customers in all markets. McQuay International continues to invest in growing our manufacturer representative offices, national accounts and after-market service and parts networks around North America," said Don Winter, vice president, Marketing, McQuay International.
For more information, call the South Florida McQuay Sales and Service office at 954-486-4808, or visit http://www.southflorida.mcquay.com .
McQuay International , a wholly owned subsidiary of Daikin Industries Ltd., delivers engineered, flexible solutions for commercial, industrial and institutional HVAC requirements with reliable products, knowledgeable applications expertise and responsive support. McQuay products and services are provided through a worldwide network of dedicated sales and service offices. For more information or the name of your local McQuay representative, call 800-432-1342, or visit http://www.mcquay.com.
# # #