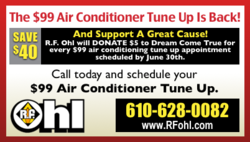 It's an opportunity for homeowners to prepare their homes for the summer heat.
Allentown, PA (PRWEB) May 21, 2013
R.F. Ohl Heating Oil & Propane announced its get-ready-for-summer offer of air conditioning tune ups at a discounted price of $99, that is, $40 off the standard service price. The HVAC Allentown, PA company, announced its limited-time offer today in time for Allentown citizens to optimize their indoor comfort for summer. R.F. Ohl, not only offers a $40 discount but also is donating to the Dream Come True Charity with a parallel initiative to donate $5 for every air conditioning tune up appointment planned before June 30th, 2013.
The HVAC Allentown, PA company wishing to provide affordable air conditioning tune-ups presented the discount details today, R.F Ohl spokesperson and company manager, Steve Ohl, commented.
"R.F. Ohl wanted to provide Allentown citizens the opportunity to prepare their homes for the summer heat. Our offer is addressing all the people who are proactive and seek to be fully prepared when it comes to indoor comfort during summer months. Our discount, although running for a limited time is, we believe, provided at a fitting time, allows people to plan accordingly with their air conditioning maintenance and optimization."
Mr. Ohl also highlighted the importance of an air conditioning tune up in his brief written statement released today. He emphasized that professional air conditioning tune ups from a reliable HVAC contractor boost the efficiency of air-cooling and it substantially prolongs the system's lifespan. An air conditioning tune up is necessary, especially if one wishes to use their air conditioning system for many years. Tuning up central air conditioning systems allows them to run on less energy, thus helping households keep their air conditioning costs at a minimum. Apart from the financial benefits of an AC tune up carried out by expert heating and cooling contractors, an AC tune up means a household will be greener, in that their gas emissions will significantly diminish during the summer months.
As a thank you to all customers who will respond to the offer by R.F. Ohl, the company is donating $5 to the charity Dream Come True for all tune up appointments made by June 30th.
About R.F. Ohl:
R.F. Ohl is a family-run business with almost 30 years of providing heating, ventilation, and air conditioning (HVAC) services to the wider region of Allentown, Pennsylvania. Prioritizing quality and customer satisfaction, the company has grown from a fuel oil delivery company to a full-blown indoor and outdoor comfort expert.