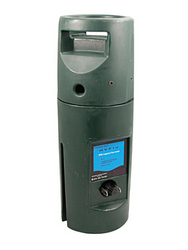 Cleveland, OH (PRWEB) August 4, 2009
Flow Line Options Corp. (Flo-Corp), a leading manufacturer and national distributor of flow and level instrumentation, today launched HVFlo™, an open channel flow monitoring solution into the U.S. market. The principle function of the HVFlo is to measure and monitor water flow, and provide data to help manage water resources and sewer systems.
"Flow Line Options is excited about launching HVFlo into the U.S. market" said Dave Grumney, President of Flow Line Options Corp. "With increasing attention on our ecology, we believe the market will require increased accuracy, durability and affordability from a metering device. The HVFlo meets and exceeds these requirements. We have system reporting software that is portable and verifiable for all the regulatory requirements in the market. We expect the HVFlo to be the foundation of our ChannelFlo family of products."
The new HVFlo is a high performance battery operated open channel flow monitoring solution for waste water, storm water and industrial discharge applications. HVFlo features Flow Line Options field proven Doppler velocity and level measurement sensors. Advanced spectrum signal processing allows HVFlo to produce accurate, repeatable results every time and offers optional telemetry interface for long-term monitoring applications.
The HVFlo open channel flow meter offers an innovative design that can be configured internally to create three unique products, satisfying different markets within the water monitoring industry. These markets range from river irrigation to highly toxic and arduous environments such as sewers.
Field-proven for over 10 years in other parts of the world, this new open channel flow meter has demonstrated a unique ability to produce superior results under a very wide range of hydraulic operating conditions.
Typical HVFlo applications:

Inflow & Infiltration Studies
Combined Sewer Overflow Studies
Pump Station Monitoring
Long & Short Term Sewer Flow Monitoring
Sewer System Capacity Analysis
Storm Water Monitoring
Industrial Discharge Monitoring
Quantifying Rehabilitation Effectiveness
Billing Networks
Compliance Metering
HVFlo benefits include:

Portable and lightweight for easy-of-use
Rechargeable battery offers long-life without costly new batteries
Excellent data storage, typically 240 days (@ 15 minute logging)
Typically 150 day battery discharge cycle (@ 15minute logging)
Intrinsically safe and Non-Intrinsically safe models available
IP68 to 3m
About Flow Line Options
Incorporated by the State of Ohio in 1988, Flow Line Options began as a small distribution company and has evolved into a leading manufacturer and national distributor of flow and level instrumentation. In 1999, Flow Line Options expanded to the Web to provide their services globally. Even with the company's rapid growth, Flow Line Options continues to maintain a small business attitude and commitment to its customers. For more information, visit http://www.flowlineoptions.com
Media Contact:
Jen Millar
Flow Line Options Corp.
1-877-356-5463
###