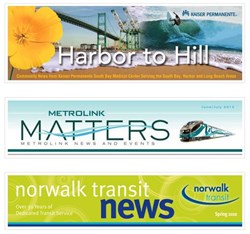 A corporate re-brand makes everyone feel refreshed, from employees to owners, clients and suppliers." Harlan West
Los Angeles, CA (PRWEB) August 13, 2013
HWDS Creative has introduced a marketing design tune-up with a focus on bringing new energy to the corporate identity of established organizations. Healthcare companies, transportation organizations and government agencies now have a way to get a fresh design overhaul. Harlan West, (http://westdesign.com) Creative Director of 22-year old HWDS Creative and publisher of Issuez, the News Magazine about Newsletter Design, and Successful Corporate Communications announced, "It's possible to tune up your corporate marketing without ever getting your hands dirty."
Start with a Tune-up. If an organization has been using the same newsletter template for the past three or more years, chances are it's stale and badly in need of a refresh. "Try a new look with some dynamic new graphics and a new typestyle and masthead. It will keep your company looking contemporary and state-of-the art," said Harlan. You can also try converting your regular print publication to an online e-newsletter. "It could save your company thousands of dollars in print costs and you will impress both your boss and your clients. We develop newsletter templates and offer complete monthly newsletter packages to suit your company's needs."
Update your Corporate Identity. A corporate re-brand can start with a logo, typestyle and tagline. "Our clients turn to us for a more modern typestyle, a contemporary graphical symbol and the addition of color and dimension to their logo," said Harlan. "It makes everyone feel refreshed, from employees to owners, clients and suppliers. It gives the company a whole new perspective. HWDS not only creates logos, but can also create a complete re-branding with a brand standards guide and new templates for design materials."
Save money. There are new digital collateral materials that can save companies thousands of dollars in print costs. Mini designed presentation books, E-books, e-newsletters, and their new interactive page flipping i-mags are innovative ways to reach a target audience without incurring the high cost of printing, fulfillment, mailing and distribution.
Take your outreach on the road. One of the newest areas that HWDS Creative handles is vehicle wraps. "Clients are coming to us in preparation for special events or promotions –for example, the Norwalk Transit Stuff-a-Bus," said Harlan. Every year since 2002, Harlan and his team have designed a vehicle wrap that dresses up a bus and collects toys for disadvantaged kids and a bus tail wrap to promote ride-sharing.
Go down in history. Commemorative events call for inspired design. Healthcare marketing for hospital openings, medical center openings, new facilities, and anniversary celebrations are just a few of the events that inspire calls to Harlan West. "There's a lot of history surrounding the collateral materials we create for our clients," said Harlan. "Kaiser Permanente came to us to build materials commemorating the 10th year of Palmdale's Medical Offices, the 25th anniversary of Woodland Hills Medical Center, the 50th anniversary of Panorama City Medical Center, the 60th anniversary of the South Bay Medical, and the 75th anniversary of the Fontana Medical Center." Event materials range from e-invitations, commemorative books, pins, posters, and collateral, web pages and programs.
"We love creating historical pieces for our clients," says Harlan. HWDS Creative recently completed the design of Old Towne Orange's map for the City of Orange, CA. The firm used historical orange crate labels and old photos from the City's Library archives to create a keepsake map that helps to promote Old Towne Orange as Orange County's favorite downtown shopping district.
Save the date: Events are most successful when they are packaged in uniform design. Beginning with invitations and save the date cards and progressing to signage, banners, programs, posters, e-blasts, "we develop a natural progression of materials that work together to help brand the event," says Harlan.
Help others: HWDS Creative also helps support non-profits including the American Cancer Society, the Young Artists Ensemble and Women & Words. Women & Words, for example, promotes women authors and donates the majority of their profit to women and children's charitable organizations. To help this great cause, HWDS designs and regularly maintains the Women & Words website at womenandwords.com
About HWDS Creative
For the past two decades, HWDS Creative has created print publications and promotions for a wide array of government agencies, municipalities and large institutional clients. These include the Los Angeles Metropolitan Transit Authority (Metro); Metrolink, Norwalk Transit, the cities of Santa Monica, Orange and Norwalk, and the Bringing Back Broadway project for the City of Los Angeles. Major corporate accounts include Kaiser Permanente, Time Warner Cable, and Pathways Strategic Communications. Services include: marketing, public relations, art direction, branding, print coordination, Spanish translation, project management and copywriting.
For more information or to consider a marketing tune-up, go to http://westdesign.com/.
To contact the company, e-mail: hwdesign(at)west(dot)net.