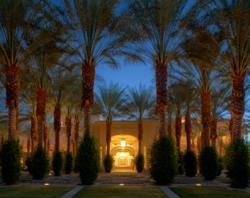 ...a spa experience that not only incorporates elements of the local area, but also targets what our guests want to achieve.
Indian Wells, CA (PRWEB) February 09, 2012
Hyatt Grand Champions Resort, Villas and Spa is pleased to name Karina Chung as Spa Director of Agua Serena Spa. Celebrating its 10th year, Agua Serena Spa commemorates this notable addition by also introducing an entirely new spa menu, created by Chung. Utilizing all areas of the 30,000 sq. ft. wellness facility, indigenous plants and local health and wellness products, the California desert native has created an entirely new streamlined menu highlighting the four components of a well-rounded Palm Springs spa journey: a calm mind, treatment experiences, movement and wellness.
After living all over the world, Chung felt it was time to come back to her hometown. Joining Agua Serena Spa at Hyatt Grand Champions on its 10-year anniversary, she saw this as an opportunity to celebrate the abundance of indigenous products with healing properties, local health and wellness businesses and a remarkable 30,000 sq. ft. wellness facility to essentially re-launch the spa.
"This is not your ordinary spa with just massages and facials," said General Manager Allan Farwell. "Karina has done a supreme job of reinventing Agua Serena to provide a spa experience that not only incorporates elements of the local area, but also targets what our guests want to achieve. We're beyond thrilled to celebrate the introduction of this new spa menu and the addition of Karina on our 10-year anniversary."
Chung has created a well-round spa experience, focusing on the four areas of a well-rounded spa journey, including: a calm mind, treatment experiences, movement and wellness. Highlights from the new Palm Springs spa menu include:
A Calm Mind – The experienced staff at Agua Serena Spa will prepare guests for a memorable and personalized spa journey through a brief discussion regarding the treatment and tips for an optimal spa experience. Agua Serena Spa offers a full-service spa experience including a steam room, sauna, and fitness center at the guest's disposal. A new "Spa Bites" menu provides a healthy extension to any treatment and contributes to the spa's mission to create an overall healthy lifestyle, featuring locally-sourced ingredients in a serene setting.
Treatment Experiences – Agua Serena has partnered with Palm Desert-based The Body Deli, a pioneer for fresh, raw, organic skin and body care, to create an exclusive product line utilizing native plants found in the California desert: cactus and dates. Featuring local Nopal Cactus and Medjool Dates, this new product line only available at Agua Serena Spa includes a lotion, shampoo, conditioner and body wash. In addition, Chung has created a series of new spa treatments utilizing these new products, including a Cactus and Date Scrub, Cactus and Date Soak and Cactus Sun Repair Wrap. Also, new on the menu are treatments for children. As the resort attracts families from all over the world, Agua Serena offers a new line-up for "Little Spa Goer" treatments that cater to the young and fabulous.
Movement – A firm believer that physical fitness is essential to overall wellness, but also doesn't take herself too seriously, Chung introduces new group movement journeys, including Scotch and Stretch and Vino & Vinyasa, both incorporating libations with stretching.
Wellness – Agua Serena Spa has enlisted health expert Dr. Bruce Underwood to offer a variety of new wellness consultations, including a Nutritional Assessment, Lifestyle Assessment and Healthy Transformations, a comprehensive session of personal fitness, lifestyle and nutritional components for total wellness.
Hyatt Grand Champions also offers the award-winning the Medical and Skin Spa, located in Agua Serena Spa. Founded by Richard M. Foxx, MD, the Medical and Skin Spa has been providing its patients with the most effective no-downtime, non-invasive aesthetic and laser medicine treatments since 2003.
For more information regarding Agua Serena Spa or to make a reservation please call (760) 674.4100 or visit http://www.aguaserenaspa.com.
About Hyatt Grand Champions Resort, Villas and Spa
Nestled among 45 acres of lush gardens, Hyatt Grand Champions Resort, Villas and Spa is a newly renovated destination resort located in exclusive Indian Wells featuring warm hospitality, unmatched service and easy access to a myriad of activities. Offering a cool oasis in an iconic desert setting, Hyatt Grand Champions is a resort where guests can create their own relaxing, reinvigorating or rejuvenating retreat. The only resort in the Palm Springs area offering 43 private one- and two-bedroom villas with butler service, this 530-guestroom resort's spacious modern design and warm Hyatt service seamlessly integrates relaxation, indulgence and endless outdoor activities against the natural beauty of the desert. Featuring the award-winning Agua Serena Spa and the Medical and Skin Spa, delectable dining options, seven pools, and more than 88,000 square feet of flexible function space, the resort offers both leisure and business travelers the quintessential Palm Springs experience. Hyatt Grand Champions Resort, Villas and Spa has received numerous notable awards, including the prestigious AAA Four Diamond Award for more than 20 consecutive years and was voted by Condé Nast Traveler readers as one of the "Top 125 Golf Resorts in the U.S." in 2011. For more information, visit http://www.hyattgrandchampions.com.
###