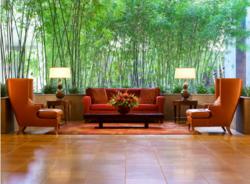 Bellevue, WA (PRWEB) October 27, 2011
Take a trip to the Eastside of Seattle for the holidays and enjoy the bustling, twinkling city of Bellevue. This winter season, Hyatt Regency Bellevue will be offering its Shop & Stay package from November 20 – January 22, 2012 for those looking to enjoy festive outdoor holiday events and seasonal shopping. Connected via skybridge to Bellevue's premier shopping, dining and entertainment district – The Bellevue Collection – hotel guests can enjoy a blissful day of non-stop shopping and return to Hyatt Regency Bellevue for a night of relaxation.
"From family friendly events to a celebratory night on the town, Bellevue has a wide variety of options, making it the quintessential destination for a memorable holiday experience," said Hyatt Regency Bellevue General Manager Rolf Osterwalder. "Come and enjoy seasonal holiday activities with shopping at some of the area's most loved retailers, top notch dining, entertainment and nightly performances at Snowflake Lane."
For visitors looking to stay in the heart of the holiday action, Hyatt Regency Bellevue offers comfortable, yet stylish accommodations. Starting at $149, the Seattle area hotel's Shop & Stay package includes an overnight stay at Hyatt Regency Bellevue, a $50 gift card for shopping or dining at The Bellevue Collection (which consists of Bellevue Square, Bellevue Place and Lincoln Square) and complimentary overnight parking. Guests will also be treated to a 2 p.m. late check out to get in some last minute shopping or enjoy a relaxing breakfast. To reserve Hyatt Regency's holiday inspired package, visit hyattregencybellevue.com.
Holiday entertainment, shopping and dining in Bellevue includes:
Entertainment
Downtown Bellevue
From mid-November through the end of the year, enjoy daily activities, including parades, musical performances, dazzling light shows, and much more at Snowflake Lane and Celebration Lane right outside Hyatt Regency Bellevue. Come the end of November, Bellevue Downtown Park transforms into a winter ice skating arena. Skaters and spectators can enjoy 'Learn to Skate' nights, family parties and group events. Looking for more family fun? The famed Bellevue Botanical Gardens transforms into the ultimate winter wonderland with more than a half a million sparkling lights. Admission prices vary.
Shopping
Bellevue Square, Lincoln Square & Bellevue Place
Anchored by world-class retailers such as Macy's and Nordstrom, The Bellevue Collection caters to every shopper. Children can relive movies past with a trip to The Disney Store or create a new friend at Build-a-Bear Workshops. Guests can shop home décor at Crate & Barrel and Williams-Sonoma or discover the latest technology trends at The Apple Store and The Microsoft Store. After an exciting day of shopping, stroll over to Lucky Strike Lanes & Power Play and challenge friends to a game of retro bowling or visit Lincoln Square Cinemas to watch the newest cinematic releases. Finish the night off with a few laughs and signature cocktails at Parlor Billiards, Comedy Club & Ultralounge.
http://www.bellevuesquare.com
Dining
Bellevue Place, Lincoln Square & Bellevue Square
Dine at Daniel's Broiler for featured dishes such as USDA Prime steaks cooked to perfection, elegant seafood dishes and casual happy hours. Located on the 21st floor of Bellevue Place, Daniel's Broiler boasts spectacular views of Bellevue and Seattle's Eastside. Join family and friends at Joey Bellevue for classic dishes and infused with creative touches that make dining extraordinary. Boom Noodle is serving up authentic Japanese dishes that are modern, healthy and fresh. A perfect location for viewing holiday events such as Snowflake Lane, Boom Noodle is kid friendly and fun for friends and family. A new Chinese restaurant to hit the Eastside, Din Tai Fung Dumpling House welcomes shoppers to warm-up with artfully created dumplings that are steamed to perfection. With more than 30 menu items, there's something for everyone.
http://www.bellevuesquare.com
About Hyatt Regency Bellevue
Hyatt Regency Bellevue is a AAA four-diamond hotel situated on Seattle's Eastside, in the heart of downtown Bellevue, Washington. Nestled between Lake Washington and the Cascade Mountain Range, the hotel is part of The Bellevue Collection, the Northwest's leading shopping, dining and entertainment destination, and offers premier services and amenities to both business and leisure travelers. Recently completing a $185 million expansion, the hotel offers groups more than 70,000 square feet of flexible state-of-the-art event space – from the third largest ballroom in the state to an intimate 12-person boardroom – 732 luxuriously redesigned guestrooms, an expansive 7,000-square-foot workout complex and a comfortable, spacious lobby. For more information, please visit http://www.hyattregencybellevue.com.
###
# # #