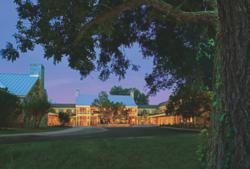 The resilience that Bastrop has shown in the midst of this tragedy has been inspiring and extraordinary...
Lost Pines, TX (PRWEB) September 28, 2011
Hyatt Regency Lost Pines Resort and Spa is making a $25 donation to the Bastrop Ministerial Alliance for every room night booked at the "Hyatt Daily Rate" with special offer code "WeCare" for new reservations booked for stays through December 30, 2011. This donation program has been launched in direct response to the numerous inquiries the resort has received from guests who wish to support the relief efforts for the recent wildfires that ravaged the community.
"Many of our guests, including leisure travelers as well as companies holding business meetings at the resort, have asked us how they can help Bastrop residents and resort employees who suffered loss during the recent Bastrop County Wildfires," stated Steve Dewire, General Manager, Hyatt Regency Lost Pines Resort and Spa. "When a guest makes a reservation to visit the resort through this special offer they are supporting Bastrop's tourism industry as well as making a tangible contribution to the community's recovery efforts," Dewire continued.
To book the special offer, go to the Hyatt Regency Lost Pines website and type "WeCare" into the special offer field on the reservations page. The "WeCare" offer code only applies to the Hyatt Daily Rate and cannot be used in conjunction with any other special offers or packages the resort may be offering.
From the onset of the fires and through the intense first weeks, Hyatt Regency Lost Pines extended discounted rates to local evacuees, housed hundreds of firefighters, and provided complimentary accommodations and meals to its displaced associates. The resort continues to work closely with its employees who have lost their homes to ensure that they have the resources to get them through this difficult time. Among the types of assistance offered are: counseling, clothing, cleanup kits, personal care items, gift cards, cash gifts and flexible scheduling.
Not only has Hyatt Regency Lost Pines offered support, but other properties and offices throughout Hyatt, the resort's ownership entities, and other Austin-area hotels have shown an outpouring of care and concern. Truck loads of donated items, gift cards, and cash have come from San Antonio, Houston, Dallas, Omaha, Denver and Florida with international donations on the way as well. Additionally, one of Hyatt Regency Lost Pines' frequent guests drove a carload of donations all the way from College Station to Bastrop while attendees at a corporate retreat at the resort donated 20 bicycles that they had assembled as a team-building activity.
"The resilience that Bastrop has shown in the midst of this tragedy has been inspiring and extraordinary. The doors to our businesses are open and, our residents are as welcoming and genuine as ever," Dewire continued. "This outpouring of support from our guests' has been truly touching, and is a testament to the connection they feel to our community. We encourage anyone who has considered a trip to the Lost Pines region to visit. Bastrop is as vibrant, charming and hospitable as ever."
About Hyatt Regency Lost Pines
Situated along the banks of the Lower Colorado River just outside Austin,Texas, Hyatt Regency Lost Pines Resort and Spa features 491 guest rooms, more than 60,000 square feet of indoor meeting space and over 230,000 square feet of outdoor function space including a pavilion and amphitheater. The resort offers guests a true, luxurious wilderness escape located on over 400 acres of diverse Texas terrain adjoining the 1,100-acre McKinney Roughs Nature Park. Amenities include Wolfdancer (an Arthur Hills-designed 18-hole golf course), Spa Django, Wild Hare Youth Spa and Renegade Trailhead equestrian facility. In addition to golf and horseback riding, guests can enjoy floating down the Crooked River, hiking along 18 miles of trails, kayaking and rafting on the Colorado River, archery, trap shooting, visits with the resort's animal mascots and nightly s'mores roasts at one of the outdoor fire pits. The resort features weekly live music and boasts seven on-site dining options offering everything from a light snack to a fine dining experience. For reservations or information contact Hyatt Regency Lost Pines Resort and Spa at 512-308-1234 or visit us at http://www.lostpines.hyatt.com.
# # #