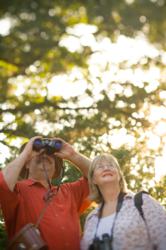 AUSTIN / BASTROP, TEXAS (PRWEB) September 04, 2012
Hyatt Regency Lost Pines Resort and Spa, LCRA's McKinney Roughs Nature Park and Bastrop County Audubon Society are partnering to host the Second Annual Lost Pines Christmas Bird Count on Saturday, Dec. 29, from 7 a.m. to 3 p.m.
Started by the National Audubon Society, The Lost Pines Christmas Bird Count is the longest running citizen science survey in the world. It is a tradition that dates back to 1900, and it is held across the Americas each year from Dec. 14 to Jan. 5. The 2012-2013 count marks the 113th year of the event, for which tens of thousands of volunteers and birders will brave winter weather to add a new layer to more than a century's worth of data.
"The Christmas Bird Count is a great tradition, and we believe that having a count for the Lost Pines Region gives birders, travelers, locals and guests a unique opportunity to enjoy and experience the natural beauty of the area, inclusive of Bastrop County, McKinney Roughs and Hyatt Lost Pines," said Steve Dewire, general manager of Hyatt Lost Pines.
At last year's inaugural Lost Pines Christmas Bird Count, participants caught sight of 112 species of birds inside the Lost Pines circle. Birders will use last year's number as a benchmark for 2012 and the years to come, taking note of the new and different species that make their way into the region as vegetation continues to fill in and evolve following the 2011 Central Texas wildfires.
Participants in the Second Annual Lost Pines Christmas Bird Count will launch their birding adventure from Hyatt Lost Pines on Saturday, Dec. 29. Options for participation include all-day land, morning land, morning river and all-ages-friendly Bird Count 101 excursions that explore various sections of the Lost Pines circle, which stretches 15 miles in diameter.
In addition to the wildlife census itself, participants may take part in workshops and activities throughout the weekend, most of which are complimentary. The activities lineup for Dec. 28 and 29 will feature a bird-calling workshop, a birds of prey demonstration, a hummingbird facts and folklore workshop, a night owls outing and a nature journaling program with local artist, author and naturalist Margie Crisp. On Friday evening, Dec. 28 – the evening before the count – there will also be a special "Feed the Birders" dinner, showcasing presentations by Crisp and Glenn Olsen, a Houston-based Texas Master Naturalist, Rice University instructor, expert birder and photographer, and the founder of GO Birding Ecotours.
The Lost Pines Christmas Bird Count is one of approximately 50 counts taking place in the Lone Star State this season. More than 630 species of birds have been seen across Texas, including the whooping crane, golden-cheeked warbler and black-capped vireo. About 250 of those species make their home in the Lost Pines Region.
To register for the 2012 Lost Pines Christmas Bird Count and sign up for supplementary activities, visit http://www.VisitLostPines.com.
In honor of the count, Hyatt Regency Lost Pines has created a room block for fans of feathered friends. A special rate is available on Thursday, Dec. 27 and Friday, Dec. 28 and can be booked online and by phone. Rates start from $139 per night (plus tax and resort fee). To book the Hyatt Regency Lost Pines Christmas Bird Count rate (Special Offer Code: BIRDS), call 512-308-4757 or visit http://www.lostpines.hyatt.com.
About Hyatt Regency Lost Pines
Situated along the banks of the Lower Colorado River just outside of Austin, Hyatt Regency Lost Pines Resort and Spa offers a luxurious wilderness escape on 405 acres of diverse Texas terrain. This resort destination features 491 guest rooms, more than 60,000 square feet of indoor meeting space and over 230,000 square feet of outdoor function space with a pavilion and amphitheater. Additional amenities include the 18-hole Audubon-International-sanctioned Wolfdancer Golf Club, Spa Django and Renegade Trailhead equestrian facility. Beyond golf, spa and riding, guests will enjoy exploring the adjoining 1,100-acre McKinney Roughs Nature Park; kayaking and rafting on the Colorado River; hiking and birding along 18 miles of trails; floating down the Crooked River; roasting s'mores at one of the outdoor fire pits, as well as a dynamic lineup of recreational activities. Hyatt Regency Lost Pines showcases live music on a weekly basis and boasts a total of nine year-round and seasonal dining options with everything from a light snack or beverage to a fine dining experience.
About the Christmas Bird Count
The Audubon Society's Christmas Bird Count is the longest running Citizen Science survey in the world, taking place each year from December 14 to January 5. The first Christmas Bird Count was held in 1900 when bird enthusiasts realized the annual Christmas "side hunt" could be threatening the survival of various bird species across the Americas. Ornithologist Frank Chapman, an early officer of the then budding Audubon Society, led the charge to establish a new tradition - creating a census to replace the hunt. On Dec. 25, 1900, Chapman and 27 other birders were responsible for 25 counts stretching from Toronto, Ontario to Pacific Grove, California, during which they tallied sightings of about 90 species of birds. Today, the Christmas Bird Count is the longest running wildlife census, helping to assess the health of bird populations and serving as a guide for conservation efforts throughout the Americas.