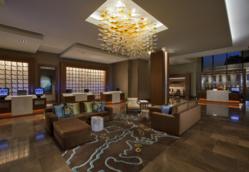 "Over the past 30 years, Hyatt Regency San Antonio has welcomed millions of guests to this dynamic and growing, historic city...
San Antonio, CA (PRWEB) January 09, 2012
On Dec. 18, 1981, the Hyatt Regency San Antonio hotel opened its doors to 700 eager and talented candidates who were anxious to join the Hyatt Regency team. Thirty years later, the San Antonio Riverwalk hotel's success is a true testament to the staff's continued dedication, passion for hospitality, superb customer service and love of San Antonio.
To celebrate this milestone, the San Antonio hotel held an anniversary luncheon on Wednesday, Dec. 14, honoring 10 of its outstanding charter members for 30 years of hard work and loyal, dedicated service. Hyatt Regency family, community friends and business partners were in attendance. The 10 charter members each had an opportunity to speak at the luncheon, in the order in which they were hired. They are:

Roy Vigil, hired Nov. 16, 1981, Storeroom Attendant;
Rita Gonzales, hired Nov. 17, 1981, PBX Operator;
Tootsie Diaz, hired Nov. 23, 1981, In-Room Dining;
Yolanda Rosas, hired Nov. 25, 1981, Room Attendant;
Humberta Sayago, hired Dec. 1, 1981, Cafeteria Attendant;
Jesse Pena, hired Dec. 4, 1981, Area Director of Security;
Danny Gomez, hired Dec. 5, 1981, Employee Cafeteria – Cook 4;
Jocelyn Brown, hired Dec. 7, 1981, Steward;
Teresa Muro, hired Dec. 21, 1981, Laundry Attendant, Laundry at Grand; and
Rosalinda Diaz, hired Dec. 31, 1981, Room Attendant.
"Over the past 30 years, Hyatt Regency San Antonio has welcomed millions of guests to this dynamic and growing, historic city," said Peter McMahon, General Manager of Hyatt Regency San Antonio. "None of our success would have been possible without the incredible talent and commitment of our employees. They truly deserve a round of thanks and applause."
Preserving Hyatt History
The excitement over Hyatt Regency San Antonio was well deserved when the doors first opened 30 years ago. Perfectly situated between the historic Alamo and the famed San Antonio Riverwalk, the San Antonio Riverwalk hotel was the first to boast a 16-story atrium, the largest hotel ballroom in the city, was home to three restaurants and most impressively, the river running through the lobby.
And the hype has continued, as the property has taken great strides to guarantee that the guest experience remains unmatched from beginning to end. Currently in its third decade, Hyatt Regency has undergone three phases of a $30 million makeover that preserved both its rich history and excellent reputation as one of downtown San Antonio's premier destinations.
From the new and improved façade and warm-toned lobby featuring beautiful, one-of-a-kind pieces of artwork to the 58-seat "sit down" bar, upgraded meeting spaces, revitalized landscaping and very own Einstein's Bagels, the property has been renewed and revived, giving visitors the ultimate guest experience.
About Hyatt Regency San Antonio
Hyatt Regency San Antonio is one of the Alamo City's most luxurious downtown hotels. The AAA Four Diamond property is uniquely situated on the famous San Antonio Riverwalk with a premier view of the historic Alamo, connecting two of the city's top destinations through the hotel's 16 story atrium lobby. Guests can enjoy unsurpassed Hyatt service and amenities from swimming in the heated rooftop pool to indulging in the pampering services of the DASA spa or exercising in the 24-hour Stayfit gym. Texas style cuisine and stylishly chic guest rooms make Hyatt Regency one of San Antonio's premier destination hotels. For more information and reservations, visit http://www.hyattregencysanantonio.com or call 210.224.1234.
###