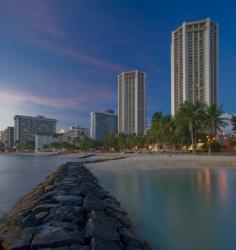 We really have been fortunate to have so many great chefs sign on to be a part of our event...
Honolulu (PRWEB) August 07, 2012
Hyatt Regency Waikiki Beach Resort and Spa Executive Chef Sven Ullrich announces the addition of Boston restaurateur Joanne Chang, Flour, Myers + Chang to the list of elite female chefs, mixologists, baristas, and farmers joining the Hyatt's Girls Got Game Sunday Brunch. One of the premier events of the Hawaii Food and Wine Festival, Hyatt's Girls Got Game, explores the talents of female chefs who are bringing a woman's touch to a more traditionally male dominated industry. Other star chefs include Christina Tosi, Momofuku Milk Bar, New York; Jacqueline Lau, Roy's Restaurants, Hawai'i; and, Susan Feniger, Susan Feniger's STREET, Border Grill, Los Angeles. The event is Sunday, September 9, 2012 from 11:00 a.m. to 1:00 p.m. Tickets are $85 before August 15 and $100 if purchased after and are available for purchase online at http://www.hawaiifoodandwinefestival.com or by calling (808) 237-6145.
"We really have been fortunate to have so many great chefs sign on to be a part of our event. Everything the Hawaii Food and Wine Festival does from the promotion of local farms to the creation of delectable cuisine, is what we stand for at Hyatt; we could not have found a more perfect event. Adding Chef Chang to the list with Christina Tosi, Jacqueline Lau, and Susan Feniger is truly exciting for us," remarks Ullrich.
ABOUT THE CHEFS
Joanne Chang Not many restaurateurs have an applied mathematics and economics degree from Harvard; even fewer have run every Boston Marathon since 1991. But Joanne Chang is not your average chef/restaurateur.
In 2000, Chang opened Flour, the first of three Flour bakery and cafés, in Boston's South End. 2007 was a busy year for Chang: she opened the second location of Flour in the Fort Point Channel area, and launched Myers + Chang with her husband Christopher Myers. She describes Myers + Chang as a funky indie diner with food inspired by Taiwanese soul food and Southeast Asian street food. The third Flour is currently in the works.
Never one to rest on her laurels, Chang also writes pastry articles and reviews cookbooks for Fine Cooking magazine; she teaches classes and advises pastry cooks both within the bakery and at area cooking schools. She is currently in the process of writing a cookbook featuring the best pastries from Flour and her other experiences.
Christina Tosi is the chef and owner of Momofuku Milk Bar, called "one of the most exciting bakeries in the country" by Bon Appetit Magazine. As founder of the dessert program at Momofuku, Christina helped Momofuku Ko earn two stars from the Michelin Guide and Momofuku Ssäm jump onto Restaurant Magazine's Top 100 Restaurants in the World list at #31. She has been shortlisted for a James Beard Foundation Rising Star Chef Award and named to the New York Times T Magazine's "Nifty Fifty" list. Christina and her confections have appeared on Martha Stewart, Live with Regis & Kelly, Conan, and The Today Show among others. Christina wrote and released The Momofuku Milk Bar cookbook in the fall of 2011, published by Random House & Clarkson Potter.
Susan Feniger is co-chef/owner of Susan Feniger's STREET and the Border Grill restaurants in Downtown LA, Santa Monica, and Las Vegas, as well as the Border Grill Truck. Susan's genuine love for the authentic flavors of home-cooked and street foods propelled her into a three-decade career as chef, restaurateur, cookbook author, and media darling, making her a preeminent ambassador of Mexican food and world cuisines. She successfully competed on Bravo's "Top Chef Masters", co-starred in Food Network's "Too Hot Tamales", and co-authored five cookbooks. Susan also shines a light on organizations like Scleroderma Research Foundation and the L.A. Gay & Lesbian Center.
Jacqueline Lau is corporate executive chef, Roy's Restaurants – Hawaii. Beginning as a pastry chef, she quietly became adept at all phases of Roy's Hawaiian Fusion cuisine, rising to the position of Yamaguchi's first Chef de Cuisine - - responsible for creating 20 – 25 new dishes a night - - by mid-1992. So impressed was Yamaguchi that in the fall of '92 he sent Jacqueline to Japan as the opening chef for his first international restaurant, Roy's Tokyo. To give her a larger outlet - - a restaurant of "her own" - - in which to explore her culinary instincts, Yamaguchi awarded Jacqueline with the position of Executive Chef of Roy's Nicolina on the island of Maui in 1993 and again with Roy's Waikoloa Bar & Grill in March of 1996. She has had the opportunity to cook with some of the best chefs in the world including: Paul Bocuse, Nobu Matsuhisa, Emeril Lagasse, Charlie Trotter, Wolfgang Puck, Ming Tsai and George Morrone. Jacqueline has been featured in several television series including: the Great Chef series (Great Chefs of Hawaii and Great Chefs of the World), Hawaii Cooks with Roy Yamaguchi and Island Chefs. She has also been recognized in the Hawaii Business News as one of the leading women chefs in Hawaii.
About Hyatt Regency Waikiki Beach Resort and Spa
Balanced between the idyllic beauty of the legendary Waikiki Beach and the dynamic city center, Hyatt Regency Waikiki Beach Resort and Spa is a vibrant destination combining relaxation and adventure with true Hawaiian hospitality. Each of the 1,230 guestrooms, including 19 suites, offers Hawaiian elegance and private lanai with panoramic beach, mountain, and city views. With an unrivaled location just steps from world-famous waves, the resort affords effortless exploration of the island's attractions, from Diamond Head Crater, Honolulu Zoo, and Waikiki Aquarium, to world-class shopping, sophisticated dining and expert surfing lessons. Offering endless amenities including luxurious treatments at the 10,000 square foot Na Ho'ola Spa, StayFit Fitness Center, freshwater swimming pool overlooking Waikiki Beach, fresh regional seafood dishes with upscale American cuisine at Shor American Seafood Restaurant, Pacific Rim at Japengo and more than 60 boutiques on site. Hyatt Regency Waikiki promises Hawaiian-style excitement paired with the warmth of authentic Aloha spirit.
For more information regarding Hyatt Regency Waikiki Beach Resort and Spa, please contact the resort by phone at (808) 923-1234, or visit the resort website at: http://www.waikiki.hyatt.com.