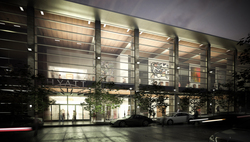 We are very close to introducing one of the largest hotel ballrooms, a total of 60,000 square feet of event space and 733 beautiful guest rooms to the Puget Sound
Bellevue, WA (PRWEB) July 20, 2009
Just two weeks away from opening the doors to its much anticipated second tower, Hyatt Regency Bellevue today announced a spectacular summer special in celebration of its soon-to-open expansion. For 733 hours (from August 1-31, 2009), the hotel will be offering 73 rooms each night for a commemoratively low rate of only $73.30 on Fridays and Saturdays and $173.30 for weekday stays Sunday through Thursday.
"We are very close to introducing one of the largest hotel ballrooms, a total of 60,000 square feet of event space and 733 beautiful guest rooms to the Puget Sound," stated General Manager Rolf Osterwalder. "And we're inviting our customers and community to celebrate with us with our special '733 Hours Rate'."
Available on a first come, first serve basis, the "733 Hours Rate" offers 73 rooms at celebratory low prices each night between August 1 and August 31, 2009. Guests must book by August 17, 2009, reference the "733 Hours Rate," and prepay for their stay to qualify. Reservations may be made online at http://www.bellevue.hyatt.com or by calling Hyatt Hotels & Resorts at 1-800-223-1234.
Two years in the making, Hyatt Regency Bellevue broke ground in 2007 on the $185 million expansion, which will officially open to the public on July 31, 2009. The new striking and state-of-the-art 17,745 square-foot Grand Ballroom will be the largest hotel ballroom on Seattle's Eastside and third largest in Washington State. Additionally, the 13,755 square-foot Evergreen Ballroom, a 135-seat executive auditorium and seven versatile conference suites will also be housed within the new tower.
For the past twenty years, Hyatt Regency Bellevue has been a much sought after location for community events and group meetings, a luxurious retreat for out-of-town guests, and a relaxing staycation destination for locals just looking for a night away. Bellevue is an urban oasis in an area Seattle residents call the "Eastside." Nestled just nine miles east of the city, between Lake Washington and the Cascade Mountain Range, this tourist-friendly and picturesque city represents a vibrant fusion of dining, entertainment, shopping and diverse cultural opportunities. Guests at Hyatt Regency Bellevue are just minutes away from numerous Washington wineries, world class recreational opportunities, and the many unique attractions that have made Seattle famous.
To make reservations or learn more about Hyatt Regency Bellevue and the surrounding business, cultural and recreational facilities Bellevue has to offer, please visit http://www.bellevue.hyatt.com.
# # #