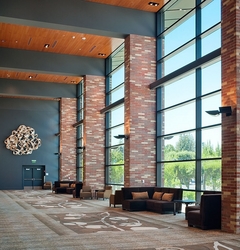 Hyatt Regency Bellevue has a twenty-year history of providing first-class accommodations and event space. The new $185 million Olympic Tower expansion will continue our heritage as the go-to choice for Northwest accommodations
Bellevue, Wash. (PRWEB) August 10, 2009
Today, Kemper Development Company and Hyatt Regency Bellevue announced the completion of their much anticipated second-tower expansion. Located on Seattle's Eastside, just nine miles from downtown, the hotel now offers a total of 733 guest rooms and suites, a newly renovated Regency Club for frequent travelers and more than 60,000 square feet of premium event space, including the third largest ballroom in Washington state.
"Hyatt Regency Bellevue has a twenty-year history of providing first-class accommodations and event space. The new $185 million Olympic Tower expansion will continue our heritage as the go-to choice for Northwest accommodations," said General Manager Rolf Osterwalder.
Adding to the already distinguished ambiance of the hotel, the expansion includes the addition of a welcoming two-story Koa wood accent wall to the hotel's signature Wintergarden lobby space, as well as a curved, Ambar stone grand staircase. The new tower is also decorated with artwork from well-known local and national artists. Featured artists include Jessica Bodner who designed the ten-foot tall antique bronze "Beehive Chandelier," and Amber Brookman who created the colorful and abstract sixty-piece "Primal Squares." In addition, the hotel now features a prominent 9-by-12 feet oil on canvas commissioned by Michael Schultheis.
The crown jewel of the Olympic Tower is the distinctively elegant Grand Ballroom. Gold, brown and deep Chinese reds form the predominant color palette for this 17,745 square-foot space, which features soaring 23-feet ceilings and 48 custom drop-glass chandeliers. Offering unparalleled setup flexibility, the Grand Ballroom is equipped with state-of-the-art technology, 58 hang points capable of holding up to 1,500 pounds apiece and 90 Mbps bandwidth for both wired and wireless high-speed Internet, which is also now available throughout the hotel. Additional event space highlights include:

The Evergreen Ballroom: This 13,755 square-foot ballroom exudes a warm, luxurious ambiance complete with high end finishes and custom light fixtures. The ballroom foyer features oversized 12-feet two-inch exterior "elephant doors," making the foyer space ideal for events requiring easy street access for large item setups.
The Executive Auditorium: This sloped 135-seat space is ideal for presentations or seminars, and is equipped with THX® surround sound and individual power stations. Guest speakers can relax before their presentations in the adjoining green room.
Seven Unique Conference Suites: Conveniently located on the first floor near the Auditorium, these spacious suites offer all the luxury of a standard guest room, with the added space and benefit of a separate parlor area complete with a six-person conference table, wet bar and wall-mounted flat-screen TV. Averaging 726 square-feet, each suite also features 10-feet ceilings in both the bedroom and parlor.
In addition to new meeting spaces, the Olympic Tower brings 351 all-new guest rooms (for a hotel total of 733), including two new VIP suites. All VIP suites at Hyatt Regency Bellevue boast more than 1,000 square feet of living space, including the brand new 1,500 square-foot Chairman Suite. Stylishly designed, this spacious suite features two separate sitting areas and a large dining area with attached powder room, a kitchen with refrigerator and microwave, and a master bedroom complete with walk in closet and oversized Italian marble soaking tub.
The $185 million marks one of the largest hotel expansions in Northwest history. More than a dozen major business, residential and retail projects are currently underway in the downtown core, underscoring the growing popularity of this Pacific Northwest urban oasis. Comprised of two towers, the current Cascade Tower and the newly opened Olympic Tower, Hyatt Regency Bellevue is the largest hotel in Bellevue.
The official hotel opening was commemorated on July 31st with a ribbon-cutting ceremony and private reception attended by key local officials, executives from Kemper Development Company, the owners and developers behind the Hyatt Regency Bellevue expansion project, as well as representatives from Hyatt Hotels Corporation. The hotel is offering a celebratory "733 Hours Rate" for overnight stays in any of the hotel's 733 rooms for as low as $73.30 on Fridays and Saturdays throughout the month of August 2009. Reservations for individual and group travel/events may be made online at http://www.bellevue.hyatt.com or by calling Hyatt Hotels at 1-800-223-1234.
###