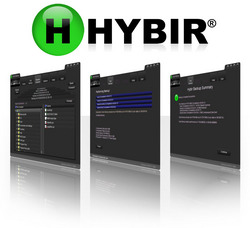 Denver, CO (PRWEB) November 10, 2010
HYBIR INC. announces the immediate release of Hybir Backup Version 3.0 for Microsoft Windows. This version ushers in a new backup standard by combining the following features into one software service:

Full backup—providing the capability to backup the entire computer
Disaster Recovery – Hybir Backup can resolve most software related issues, even bare metal restores
Online restores—the ability to correct computer problems by rolling back to previous states
Faster and efficient—industry leading processing speeds
Multiple backup locations— Hybir Backup can backup online and locally to a network share or hard drive
Security - Hybir Backup utilizes the highest level of security to protect your data
What is Full Backup?
Hybir Backup 3.0 provides the ability to backup an entire computer online and/or locally. There is a common misconception that full online backup exists in the marketplace. However, when customers read the fine print to understand what "data" is backed up, they learn that other online backup service providers only backup user-generated "data," such as documents, pictures or music. The online backup services provided by Hybir's competition do not backup software programs, system files, configurations, or user settings. Hybir Backup 3.0 is a full online backup service without these limitations.
Disaster Recovery
To illustrate the value of Hybir Backup 3.0 in a disaster recovery scenario, imagine your hard drive fails and you have to replace it. With other common online backup services, you may recapture your "backed up data," but you will not be able to recapture your operating system, your programs, system files, configurations and settings. Unfortunately, reloading all of your software can take hours of your personal time and it may take weeks before your computer is back to the way it was. With Hybir Backup 3.0, your new hard drive can be restored to the full image of your old hard drive with a few simple steps, called a bare metal restore.
"We are truly excited about our Hybir Backup 3.0 release. Once consumers understand that Hybir is the only online backup service that can backup an entire computer, it raises the standard of innovation in the marketplace." said Rasch Young, Co-Founder and CEO.
Other Key Features
Hybir's pioneering technology enables full PC restoration. By backing up everything needed to completely restore the computer exactly the way it was and not just certain files, customers can leverage the software to serve as an automated repair service. Most consumers will eventually experience common computer problems such as viruses, malware, or system errors. In these situations, consumers can conveniently rollback to a previous computer state to eliminate the problem by using Hybir Backup's restore function. This goes beyond any restore feature in the industry that simply restores certain files rather than the entire system.
Hybir's patent pending software employs source data identification and global data de-duplication technologies that can outpace the speeds of other solutions. This design means that the software is incredibly fast, complete, and efficient. Backup updates are driven automatically and will not consume precious processing power.
Security
Hybir Backup uses the highest available level of the industry standard SSL encryption to transfer data which is higher than that in use by some banks and some military applications. Private Key Encryption using the government approved AES-256 algorithm. Our servers are in major peering points which are some of the most secure data centers available. We also only run Hardened locked down Operating Systems on our backup servers.
Multiple Backup Locations
Hybir is the first product to provide a fully featured multi-user free local backup product with an upgrade option to the full online backup service, all together in one seamless experience. Experts recommend backing up your computer with multiple full or image backups stored in separate locations. Hybir Backup can simultaneously backup online and locally to a network share or hard drive, or to both .
"The best backup strategy is to have multiple full backups stored in different locations," said Rasch. "The disaster that causes you to lose your data could happen to your backups if they are stored in the same location. Hybir Backup is the only solution that can completely solve the backup problem by storing multiple copies of each full backup in different locations, all in one consumer friendly solution."
Hybir Backup is available for download at http://www.hybir.com as well as at CNET's download.com. For more information, please visit http://www.hybir.com , or follow us at Twitter and also on Facebook
About Hybir®
Hybir Inc. is an innovative technology company that is redefining the computer backup software industry. Its portfolio includes Hybir Backup online services and Hybir Local Backup. Founded in 2006, the Company is headquartered in Denver, Colorado.
Contact:
Craig Ross
Chief Operating Officer, Hybir Inc.
media(at)hybir(dot)com
###