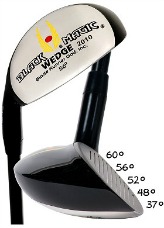 Simplify Your Short Game
Clearwater, Florida (PRWEB) January 18, 2013
Nike, an icon in the golfing world for providing golf sets and apparel to the golfing community announces a new spokesman for the Swoosh's products. As such, the announcement is that Rory McIlroy will be the next Nike backer in major golfing events for 2013". Anytime that this company announces a new spokesman or sponsor, it is a big deal—not just for Nike itself, but, perhaps more pointedly, for the career of whosoever is chosen to endorse The Swoosh's products.
The news of his appointment to a Nike sponsorship has won the attention of golf enthusiasts the world over, including Blade Runner Golf, Inc. Black Magic Wedge is devoted to providing golf clubs for the short game, catering to seasoned pros and amateur players alike. Blade Runner Golf, Inc. publically expressed its enthusiasm for McIlroy, citing him as an exceptional player and congratulating him on the new Nike endorsement.
Given all the media information available, it does appear that Rory McIlroy will begin his Nike spokesman position in grand style appearing along side of Tiger Woods in an exhibition of Nike's latest golf equipment. Woods is a well known Nike icon and with McIlroy posting along side of Tiger will certainly be an impacting moment to remember. It is reported that a possible ten year deal of $200 million is just around the corner for this title.
To golf enthusiasts, this is really a big story. It is not simply that Nike has a new face but that Rory McIlroy is a member of the sport's elite. At just 23 years of age, McIlroy—from North Ireland—has enjoyed a truly meteoric rise to acclaim. The Nike endorsement should push his reputation into the stratosphere.
Rory McIlroy has noted that Nike has consistently been associated with some of the best athletes in the world. We are positive that he knows what this will mean to his future. As for the rest of us amateur golfers, we will just have to sit back and watch the best players in the world play this great game and see how the 2013 season turns out.
Blade Runner Golf, Inc., meanwhile, will continue to provide their new technology in hybrid golf clubs for the short game. Their Black Magic Wedge's have helped players of all levels to gain the confidence needed for short game success.
ABOUT:
Blade Runner Golf, Inc. is a company that is very serious about the notion that a golfer's short game can make all the difference in his or her final score—and that players can take their short game to the next level if they only have the right club from which to choose. As stated above, Black Magic Wedge's hybrid golf clubs conform to USGA rules, but also help golf enthusiasts find new precision and power as a golfer makes their way onto the putting green.
Black Magic Wedge
P.O. Box 14503
Clearwater, FL 33766
info(at)blackmagicwedge(dot)com
Phone: (727) 726-5737
Learn more about Black Magic Wedge at: http://www.blackmagicwedge.com