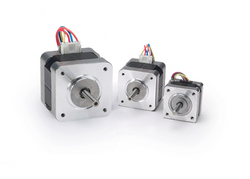 We are pleased to be answering the request of our customers for a quick prototype hybrid motor to test and customize
Chatsworth, CA (PRWEB) August 19, 2009
NMB Technologies Corporation, a Minebea Group Company, announced today the availability of a new line of standard hybrid stepper motors.
The standard hybrid line includes the popular models in NEMA size 17, 23 and 34. NMB also offers, as a standard, a 2.9 inch round model with the same mounting as a NEMA 23, providing more torque with a larger rotor but not increasing mounting layout motor size. These motors are perfect for the medical, industrial and valve markets.
"We are pleased to be answering the request of our customers for a quick prototype hybrid motor to test and customize", said Toni Lee, outsourced sales manager for NMB Technologies Corporation. "Once the customizing is designed in, the motor can be produced quickly by our factories in Thailand, offering significant cost and time savings."
Inventory for these standard motors is currently available at our distribution partners, otherwise lead time of 3 weeks will apply. The standard hybrid line is available for both distribution and OEM quantities.
About NMB Technologies Corporation - NMB Technologies Corporation, a Minebea Group company, is the world's largest manufacturer of miniature precision ball bearings and a volume leader in the design and manufacturing of precision electro-mechanical components, including cooling fans and blowers, precision small motors and mechanical bearing assemblies. NMB products can be found in the personal computing, networking, telecommunications, home entertainment, home electronics, and automotive, medical and industrial markets.
For more information on NMB Technologies Corporation visit http://www.nmbtc.com , contact the motor group directly at 847-981-5190.
# # #