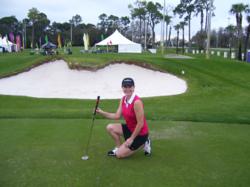 Electrify Your Short Game With A Hybrid Golf Wedge At The 2013 Tampa Golfest Event
Tampa, FL (PRWEB) January 30, 2013
Tampa Bay's own Blade Runner Golf will showcase their new 37 degree golf wedge that can significantly improve any golfer's score with accuracy from 7 iron distance and in. This revolutionary hybrid golf wedge takes the guesswork out of many of those difficult golf shots around the green. Using advanced technology, these golf clubs smartly repositioned the hosel off the face, thereby creating a club that eliminates shanks and reduces chunking that commonly plague many golfers.
During Golfest 2013, these exceptional golf clubs will be on display. Black Magic Wedge will have an instructor showing golfers of all skill levels how simple this new technology makes all types of short game shots so much easier.
Tested by certified PGA golf instructors, the 37 degree golf wedge truly accomplishes what it is set out to do. Due to their unique and sophisticated design, each hybrid golf wedge affords more leeway from hitting a little too far behind the ball and still producing great shots. The result, allows golfers of all golfing skill levels, with the ability to be more in control where their balls land.
Of the many secrets behind this remarkable hybrid golf wedge is the "no-hosel" design and its "extra-wide" sole. The clubs combine both features and are able to produce a greater amount of bounce, which in turn prevents the head from boring into the fairways while eliminating possible shank shots.
In addition, the cutting edge design gives golfers the ability to make close chip shots near the green or the power to drive from distances usually shot by a 7 iron. The superior spin increases stopping power and the club is fully in compliance with the new USGA Rules.
Golf enthusiasts are invited to see and try Black Magic Wedge's hybrid clubs in person at the Golfest event.
About
Blade Runner Golf, Inc. is a company that is very serious about the notion that a golfer's short game can make all the difference in his or her final score—and that players can take their short game to the next level if they only have the right club from which to choose. Black Magic's hybrid wedges conforms to USGA Rules, but also helps golf enthusiasts find new precision and power as they make their way onto the putting green. Black Magic Wedge can be reached on the web at http://www.blackmagicwedge.com.
Contact:
Black Magic Wedge
2519 McMullen Booth Rd
Suite 510-129
Clearwater, FL 33761
Toll Free Phone: 877-799-6099
sales(at)blackmagicwedge(dot)com