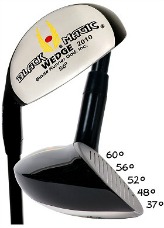 Simplify Your Short Game.
Nationwide (PRWEB) January 24, 2013
Blade Runner Golf, Inc. announced its line of hybrid golf wedges, which can greatly improve anyone's short game and help them to have the confidence needed to challenge the difficult situations golfers face on the links. These new innovative golf clubs, which fully comply with USGA rules, are capable of significantly decreasing chunking and outright eliminating shanks while providing a leg-up around bunkers and greens.
Blade Runner Golf, Inc. recognizes from its many years in the industry that the short game can make or break a golfer's score. Many golfers make fatal mistakes when their approach shot misses the green and must rely on a wedge to get over the many obstacles the ball seems to find. This new technology slides over the turf and through the sand with less drag allowing golfers to pitch shots effortlessly.
Indeed, the short game has many tricky situations that frustrate golfers of all skill levels. Blade Runner Golf, Inc. takes great pride in their Black Magic Hybrid Golf Wedges and Putter in offering an alternative from the standard clubs.
The company believes the average golfers and even some of those who are much more skilled are overwhelmed by the game's many nuances--and more particularly--the multitude of advice, tips and tricks deluging them. Blade Runner Golf, Inc. has many short game video's that offer real helpful tips that are simple to understand on the short game.
These new clubs are all the rage and receive one raving golf wedge review after another as pros and amateurs have had the opportunity to put them to the test.
While hybrid clubs are not a new concept, the engineering behind these particular wedges is remarkable, starting with the ingenious positioning of the hosel which is completely removed from the face altogether allowing golfers to get very creative. Dave Pederson, a PGA Golf instructor, notes that these hybrid clubs have an extraordinary ability for eliminating shanks and chunks which so commonly plagues golfers.
ABOUT:
Blade Runner Golf, Inc. is a company that is very serious about the notion that a golfer's short game can make all the difference in his or her final score—and that players can take their short game to the next level if they only have the right club from which to choose. As stated above, Black Magic Wedge's hybrid golf clubs conform to USGA rules, but also help golf enthusiasts find new precision and power as a golfer makes their way onto the putting green.
Black Magic Wedge
P.O. Box 14503
Clearwater, FL 33766
info (at) blackmagicwedge (dot) com
Learn more about Black Magic Wedge at: http://www.blackmagicwedge.com