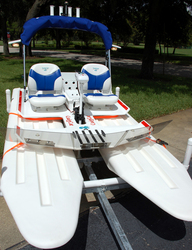 We are excited to add such an efficient model to our line of compact powerboats. We have already seen tremendous interest from the marketplace
Orlando, FL (PRWEB) September 14, 2007 -
Craig Catamaran Corporation proudly announces the arrival of the world's first compact hybrid boat, the "Craigcat Hybrid." This super efficient hybrid will run for eight hours on less than a gallon of gas.
The Craigcat Hybrid is powered by both gas and electric, and is available in two models: the CraigCat Hybrid and the CraigCat E2 Hybrid. Both models feature an easily removable portable gas generator, which can be used for camping, fishing and hunting. Additionally, both models are equipped with deluxe seats for comfortable side-by-side seating, convertible bimini top for shade protection, and a powerful 55-pound thrust electric outboard motor for zero water pollution. The hybrid models are easy to operate and great fun in either fresh or salt water.
The E2 Hybrid has twin 55-watt halogen docking lights, two NAV lights, anchor light and a fishing rod holder for four rods and a cooler. Both boats are super-stable and unsinkable.
"We are excited to add such an efficient model to our line of compact powerboats. We have already seen tremendous interest from the marketplace," said Robert Craig, President of Craig Catamaran.
About Craig Catamaran
Craig Catamaran has been manufacturing the CraigCat in Orlando, Florida, since 1990. The patented design of the CraigCat focuses on the quality of the product and the quality of the ride. The CraigCat offers a small boat with stability and comfort. Both passenger and driver experience an exhilarating ride with confidence so that they are comfortable and relaxed. It is easy to operate, easy to trailer, and easy to launch. They are the ultimate in design and performance for any recreational boating use whether it's cruising, fishing, diving, or playing.
Contact
Robert Craig, President
4333 Silver Star Rd., Suite 100
Orlando, FL 32808
Phone: 877-999-4CAT (4228)
Fax: 407-290-8781
http://www.craigcat.com
mail(at)craigcat.com
###