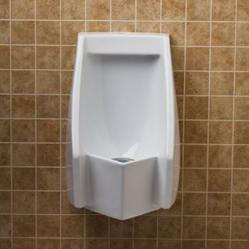 This revolutionary waterless urinal system integrates an optional 1-pint AMTC valve programmed to automatically activate aat designed intervals, adjustable for the specific application.
Issaquah, WA (PRWEB) May 01, 2013
hybridH20, the foremost designer of waterless urinal and restroom products, is excited to unveil its newest product—a hybrid urinal, which is the first of its kind in the world, now available for sale by TheHardwareCity.com. The hybridH20 urinal features revolutionary new technology that allows the user to choose from two options with the use of the urinal. The product can be used as a waterless urinal, or, with the addition of a valve, the user can enjoy the integration of waterless and ultra-low flow valve technology.
The new urinal products being offered by TheHardwareCity.com offer the efficiency of waterless hybrid urinals, with the rinsing benefits that are found through the utilization of traditional valve urinals.
According to a spokesperson for the TheHardwareCity.com, the new urinal technology was designed to fill a void seen in the market for environmentally friendly urinals that still offer an incredibly high level of hygiene and performance.
"We're excited to be able to offer this extraordinary new product, which we feel revolutionizes the world of restroom products," said the spokesperson for TheHardwareCity.com. "Not only is this hybrid urinal an eco-friendly product, but it also offers unprecedented cleanliness and the lowest maintenance possible for any urinal, and all of our products are offered at an incredible value."
The waterless urinal allows the user to experience a significant reduction in water and sewer costs, a reduction in the costs associated with maintenance and custodial tasks, a reduction in restroom odors, and a cleaner, more hygienic restroom.
The hybridH20 valve option provides the user with the world's first waterless, self-rinsing urinal. The AMTC programmable valve conducts the urinal rinse process in one of two ways—either based on the number of uses, or at timed intervals. The valve offers a high level of versatility, because it can be included during the installation of the urinal, or at any point in time thereafter. In addition, with the hybridH20 urinal, there is a minimal level of upkeep required, because the urinal doesn't require the application of sealant or special cleaners and specific maintenance training isn't required.
About TheHardwareCity.com
TheHardwareCity.com is an online retailer of a range of products, including building and electrical supplies, tools, household supplies, and lawn and automotive supplies. The company strives to provide customers with not only the most high-quality and technologically-advanced products, but also the best value. In business since 2007, TheHardwareCity.com has become the premiere destination for all things home, lawn and automotive related.