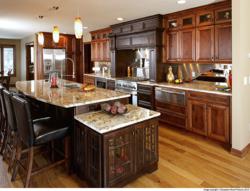 Let's get this economy in the Cincinnati area going. It's time for contractors to go back to work and homeowners to realize the value in remodeling on their home's bottom line," said Mike Judy
(PRWEB) October 11, 2011
Hyde Park Lumber and Design Center, Cincinnati's premier lumber and remodeling supply company and deluxe showroom, announced today an aggressive promotion to "Boost the Economy" with special manufacturer discounts and line expansions of their kitchen and bath cabinets.
"Let's get this economy in the Cincinnati area going. It's time for contractors to go back to work and homeowners to realize the value in remodeling on their home's bottom line," said Mike Judy, president of Hyde Park Lumber and Design Center. "Many homeowners are keeping their homes instead of selling them in this economy. By remodeling their kitchens and baths, they can increase the value of their home by thousands, for when the market improves and they do decide to sell. Kitchens and baths are the number one thing a homebuyer looks at when making a new home purchase."
Hyde Park Lumber and Design Center boasts an 80,000 square foot showroom and warehouse, featuring a wide variety of kitchen and bath remodeling essentials. The selection of kitchen cabinets has been expanded and they now carry multiple lines of top-quality, custom cabinets at a variety of price ranges. For the fall, they will be offering manufacturers' special discounts on items like new door styles and custom finishes or upgrades from standard finishes to typically more expensive finishes. These types of discounts come straight from the manufacturers and allow Hyde Park Lumber and Design Center to offer their end-user, the homeowner, something extra for their money.
Although they work with, and sell to many contractors, homeowners thinking about remodeling can come in, meet with the design team at Hyde Park, and then order the cabinets to be delivered to the job when the contractor is ready. One of the many things that differentiates Hyde Park Lumber and Design Center from the big box stores is that their showroom is set up with kitchens in place, where they can see how the cabinets will look, and the real feel and quality of them, rather than ordering from a catalog or a display that only features the front panel. It is a unique shopping experience that Mike Judy has worked at creating by listening to the customers and implementing their suggestions.
Hyde Park Lumber and Design Center features thousands of other items, from doors to siding, ceiling materials to rough lumber, cabinet and door hardware and their own patented raised panel system. Their design center has been dubbed "a homeowners paradise" by their customers.
The Hyde Park Lumber and Design Center is open weekdays from 7:30 a.m. to 5 p.m. and on Saturdays from 8 a.m. to noon. They encourage architects, designers and decorators to bring their clients into the showroom during the selection phase of any project. Appointments with the kitchen designers are appreciated. They are centrally located at 3360 Red Bank Road, near the Lunken Airport, with convenient access from Columbia Parkway or Interstate 71.
To view some of the great ideas from Hyde Park Lumber and Design Center, visit their web site at http://www.hydeparklumber.com
Contact information:
Patricia Stirnkorb,
Marketing and PR
513-860-0176
###