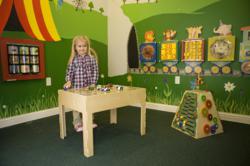 This line of product brings the kids hours of play-time, without batteries or plugs," said Mike Judy, president of Hyde Park Lumber Company.
(PRWEB) October 25, 2011
Hyde Park Lumber and Design Center have long been known for their quality wood products and building materials. Their showroom expansion includes mini-showrooms featuring products on display in actual settings. Their most recent showroom addition is a most unique play space, but not for wood-crafting adults. This room is geared to children, focusing on imagination, creativity and durability.
"We are pleased to be able to offer a quality line of products that parents and grandparents can feel confident in purchasing for the kids in their lives. So many toys today are hi-tech, eliminating the ability for kids to be creative and imaginative in their play time. They don't have the opportunity to use their own resourcefulness when they play alone, or with others. This line of product brings the kids hours of play-time, without batteries or plugs," said Mike Judy, president of Hyde Park Lumber Company.
The Anatex Product line has been around since 1982, and was made famous by their wire roller coasters which are featured in many waiting rooms and doctor's offices. The Anatex products are made in the United States, another great reason to support this line. They have won numerous awards by parenting organizations, including the coveted Parent's Choice Award for three of their products. The continual expansion of their line has allowed Hyde Park Lumber to bring in a complete room of great toys, all available for shipping throughout the country.
With the holidays right around the corner and the economy still at a standstill, parents and grandparents are especially cautious of how they spend their money on toys and gifts. Most want toys that provide creative playtime while building mental or physical skills and that will last through more than one season.
"When we buy something for our grandkids," said Billy Wilson, grandfather of 10 and great-grandfather of seven, "we want to make sure it is good quality and will last through the growing cycle of all the kids in each family. They are rough and tough and wooden toys are built to take the abuse they get!"
The 80,000 square-foot showroom and warehouse at Hyde Park Lumber has been dubbed a "homeowner's paradise," by their customers, offering kitchens, baths and rooms set up with products in place. They carry an extensive array of remodeling products and kitchen ideas and cater to both the chef and the contractor.
"We try to make sure we have what every home remodeler is seeking in their project," said Mike Judy. "We have designers on staff to help in laying out the general kitchen or bath project. We have several types of cabinets, giving them a variety of prices and styles. And by adding this line of kid's products, we keep the same standards for them that we offer to our homeowners."
Many of the Anatex products are on display in the kids' showroom at Hyde Park Lumber and Design Center. Parents and grandparents are encouraged to bring their children in to see the toys and how they will respond to some actual "old-fashioned play time." The colorful products, exceptional quality and outstanding value are just another way that Hyde Park Lumber and Design Center can please their customers—regardless of their age.
The Hyde Park Lumber and Design Center is open weekdays from 7:30 a.m. to 5 p.m. and on Saturdays from 8 a.m. to noon. They encourage architects, designers and decorators to bring their clients into the showroom during the selection phase of any project. Appointments with the kitchen designers are appreciated. They are centrally located at 3360 Red Bank Road, near the Lunken Airport, with convenient access from Columbia Parkway or Interstate 71.
To view some of the great ideas from Hyde Park Lumber and Design Center, visit their web site at http://www.hydeparklumber.com
Contact information:
Patricia Stirnkorb,
Marketing and PR
513-860-0176
###