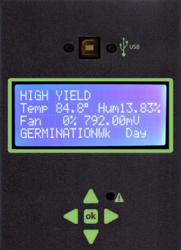 Now that the attacks on the medical marijuana industry have escalated to armed raids, patients have to be feeling apprehensive about visiting their local dispensary
Gardena, CA (PRWEB) April 07, 2012
The armed Oaksterdam medical cannabis school and dispensary raid that occurred in Oakland earlier this week has called into question if dispensaries are truly able to provide patients safe access to medical marijuana. Phototron Holdings, Inc. (OTCBB: PHOT) (OTCQB: PHOT), the Los Angeles hydroponic grow box company behind the "grow your own" revolution, says patients, even those with brown thumbs, can take themselves out of harm's way—and save themselves a lot of money—by growing their own in an intelligent, self-contained system like the Phototron Pro-LED.
The Phototron PRO-LED is a pre-assembled fully self-contained hydroponic grow box with ECO-brain that constantly monitors growth and environmental conditions and alerts the grower, turning non-growers into pros by eliminating guesswork and the need for manual governance. Using common household 110 electrical, it can be placed almost anywhere in the home, and its LEDs utilize only about 20 cents worth of electricity a day for power to operate.
"Now that the attacks on the medical marijuana industry have escalated to armed raids, patients have to be feeling apprehensive about visiting their local dispensary," said Craig Ellins, Phototron's Vice Chairman. "We want patients to know that they have a really simple alternative—and that alternative could not only save them from the real danger of being at the wrong place at the wrong time, but save them money."
Each Phototron grow cabinet allows the grower to grow indoors easily and optimally with very little investment, since it requires no additional lighting, plumbing or electrical upgrade. Everything is self-contained with the Phototron.
Phototron says that there are many other advantages to consider, including:
#1 Grow Year Round
Being able to grow in a controlled environment is one of the greatest benefits of an indoor growing system. In addition to providing shelter from inclement weather, snow, frost, humidity and heat waves, gardeners can control the number of daylight hours.
#2 Grow in Small Areas
Would-be gardeners with space limitations like apartments and condos, can still garden indoors. All of the Phototron grow cabinets are only 21 inches wide and deep, so they take up less than 2 square feet of indoor floor space. That means that they can be located almost anywhere—even a kitchen countertop.
#3 Protected from Invaders
There is nothing worse to a gardener than going out to harvest their crops and finding that a gopher, rabbit, or burglar literally ate their lunch. Indoor growing prevents these types of situations.
#4 Guaranteed Natural
Personal indoor gardens eliminate the health risks associated with things like pesticides, E. coli and salmonella. Indoor gardeners also get the 100% of the available nutritional value because their fruits and veggies go directly from the plants to their plates.
#5 Water Efficiency Makes it Really Green
In a Phototron indoor hydroponic system, water is conserved because it only uses 10% of the water typically used in an outdoor garden and only requires 10% of the nutrients.
#6 Energy Efficiency Makes it Affordable
Phototron systems take advantage of energy-saving LED technology. Phototron's vertical system, which produces only the red and blue spectrums that the plants want and need to grow, cost on average 20 cents per day to operate.
Requiring only standard 110 voltage, Phototron's LED systems generate very little heat and last for up to five years with no degradation in performance after the first year. Phototron's reflective panels also increase efficiency by increasing lumens without having to turn up the power.
#7 Automation through Advanced Technology
Phototron's smart systems make the indoor growing experience less cumbersome and more rewarding. Phototron's patent-pending Eco-Brain is a "set it and forget it" system that not only monitors the crops and optimizes plant growth, it literally teaches indoor gardeners how to grow with onscreen alerts and red alarm light.
Phototron suggests purchasing a system that is proven to last. Phototrons are built to last for decades. In fact, many indoor growers continue to order nutrients and other supplies for Phototrons they purchased more than two decades ago.
For more information about indoor growing, or to purchase or inquire about carrying Phototron products, call (800) 651-2837 or go to http://www.phototron.com.
About Phototron Holdings, Inc.
Phototron Holdings, Inc. (OTCBB: PHOT) (OTCQB: PHOT) designs and manufactures cutting-edge indoor mini-greenhouses capable of year-round growth of herbs, vegetables, flowers, fruits and medicines, better, stronger and faster than traditional farming methods.
The Phototron Hydroponic Indoor Grow System, commonly called grow boxes, is built upon decades of research on the optimal temperature, light, water and nutrient needs of plants. The Phototron System uses proprietary lighting that mimics the sun's rays to grow nutrient-rich, pesticide-free, eco-friendly crops faster and in more bountiful quantities than those of traditional gardening methods, resulting in fruits and vegetables of superior taste and quality.
Phototron systems and accessories are available for purchase from the Company's website. Phototron supports the sale and use of its products to the home medical marijuana market where compliant with applicable laws. Phototron also supplies a full range of parts, accessories and advanced nutrients to more than 50,000 customers.
For comprehensive investor relations material, including fact sheets, presentations, conference calls and video, please follow go to http://www.phototron.com.