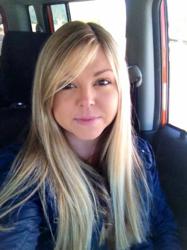 (PRWEB) April 24, 2012
And we have a winner. Phototron Holdings, Inc. (OTCBB: PHOT) (OTCQB: PHOT), the nation's premier hydroponic growing systems company that makes personal farming easy and accessible to everyone, has announced that Megan Smith of Southern California has won the top prize in the company's 420 Marijuana Holiday Contest.
"My girlfriend and I are moving into a new home we purchased together on May 4, so the timing is perfect," said Megan, who loves to cook and plans to attend culinary school. "Our backyard is half pool and half concrete patio, right up to the fence, so the Phototron will allow me to grow fresh ingredients without having to jackhammer out a spot in the yard."
During the contest, pictures of Phototrons in different locations around the world were posted on Phototron's Facebook page. Contestants had to guess the location and submit their answers on the Phototron website. Megan submitted entries for nine of the ten photos posted over the course of the contest period.
"Competition was intense during the contest," said Todd Denkin, Phototron spokesperson. "Seems everyone wants a Phototron."
Megan found out about the contest after liking the Phototron Facebook page (http://www.facebook.com/phototron) earlier this year. She had wanted one for a long time, but couldn't afford one because she and her partner were saving up to buy their first home.
Phototron hydroponic growing containers are designed to grow vegetables, herbs, flowers and fruits in any environment. With its ECO-Brain and Phototron Plant Nutrition line of all natural hydroponic nutrients, Phototron makes indoor gardening easy, and produces extraordinary results.
Megan plans to grow fresh cooking ingredients like tomatoes and peppers. "Fresh produce always make food taste better," said Megan. "We are already planning to buy another one!"
Phototron systems and hydroponic growing supplies are available for purchase from the company's website: phototron.com.
About Phototron Holdings, Inc.
Phototron Holdings, Inc. (OTCBB: PHOT) (OTCQB: PHOT) is a progressive company with core holdings in innovative technology-based products and services for home gardening specialty markets including Stealth Grow LED brand LED grow lights and the Phototron single plant hydroponic grow systems and accessories. For more information, go to stealthgrow.com and phototron.com.
For comprehensive investor relations material, please follow the appropriate link:

Investor Presentation (trilogy-capital.com/content/phot/phot_deck.pdf)
Investor Portal (trilogy-capital.com/autoir/phot_autoir.html)
Investor Fact Sheet (trilogy-capital.com/content/phot/phot_ifs.pdf)