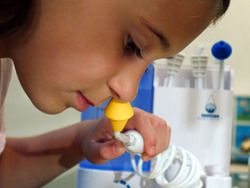 Of course, patients really appreciate this simple topical method vs. taking systemic oral antibiotics
Los Angeles, CA (PRWEB) July 31, 2008
Dr. Murray Grossan releases new information today regarding his new treatment protocol for sinus infections. Tower ENT gets many requests from doctors regarding his method of administering medications via pulsatile irrigation with the Hydro-Pulse. Dr. Murray Grossan shares his insight into this treatment protocol to provide maximum success for his patients. His method is based on the Bernoulli principle: as a liquid stream passes an opening, it creates a vacuum, which displaces the contents. Because his device uses gentle pulsatile irrigation, this effect is amplified by a steady pumping action.
The liquid reservoir of the Hydro-Pulse™ is clearly marked as to volume of liquid. To achieve maximum effect, the patient administers their medications as follows:
1. The patient fills the reservoir with 500 cc of sterile water and adds one packet (1 tsp) of Breathe-EaseXL™. (This makes a 1% modified Ringer's saline solution)
2. The patient then attaches the nasal tip to the handle and irrigates approximately 150 cc through each nostril
3. After completing the 300 cc, they stop and gently clear their nose
4. The patient then adds their ampoule of medication to the remaining 200 cc of saline and irrigates again approximately 100 cc into each nostril
5. When finished, the patient will stop and sit quietly at the sink for 10 minutes with no blowing
6. The patient is instructed to not blow their nose for the next hour
Which medications should be used? Dr. Grossan initially began with Tobramycin added to 200 cc of saline. Today he often cultures the infection and adds the appropriate medications accordingly. For fungal infections, he use antifungals (such as Amphotericin B or Itraconazole). For inflammation, he adds an anti-inflammatory (such as Mometasone or Betamethasone). "Of course, patients really appreciate this simple topical method vs. taking systemic oral antibiotics," states Dr. Grossan. "One important factor here is that the medications come in a sealed vial -- the patient just pops the top and squeezes out its contents. This is vital for many medications that are unstable and removes the need for preservatives. Note that we add Amphotericin B to saline. This is fine as long as the mix is used right away before it precipitates."
More information regarding this unique treatment protocol and a complete list of medications commonly used at Tower ENT, may be found at ASL Pharmacy. These medications require a prescription. Information on how to acquire these medications and device may be obtained through ASL Pharmacy at 866-552-7579.
# # #