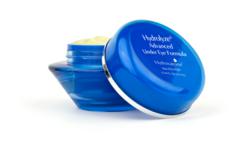 New York, NY (Vocus/PRWEB) April 04, 2011
In the highly competitive health and beauty industries, the popular anti-aging product Hydrolyze® has recently altered its formula to reflect scientific breakthroughs that have been made since the product was first released on the market. With a new lineup of active ingredients and a smoother texture, the new Hydrolyze® has been hailed by reviewers as a "revolutionary" product.
Through ground-breaking research, the scientists behind the Hydrolyze® brand have determined that a new mixture of ingredients—Biophytex™, Eyeliss™, and Dermox—are more effective in reducing the appearance of dark circles, bags, and fine lines and wrinkles around the eyes. By developing a completely new formula, one that utilizes these new ingredients, and replacing the old formula, the makers of Hydrolyze® have created a product that is more effective, faster acting, and gentler than any other on the market.
The high quality of the new Hydrolyze® has been tested both in the lab and in the real-world, as positive consumer reviews have supported the clinical findings in saying that the new formula is superior to the old in several ways. Consumers are now experiencing a higher level of results in less time and with no side effects. Many have reported that, in addition to the product working better, the new formula has improved the texture of the skincare cream and enhanced the overall health of consumers' complexions to a higher degree.
Though the old Hydrolyze® formula was effective, Hydroxatone, the brand's parent company, is committed to ensuring that all of its products reflect the newest research and incorporate the best ingredients in their formulas. The health and beauty industries are constantly changing and the brands that have been capable of attracting a loyal clientele, like Hydroxatone, have done so
because they make an effort to continually improve their products.
The changes that have been made to the Hydrolyze® formula have attracted a lot of attention, as consumers are now curious about how the product has been improved and how it can help them achieve a better complexion.
ABOUT:
Hydrolyze® is a skincare product whose claim to reduce the appearance of dark circles, fine lines, wrinkles, and bags around the eyes has been supported with clinical trials carried out by dermatologists. New Hydrolyze® has been met with highly positive consumer reviews, which extol the product's ability to deliver on its promises and increase the health and youthful appearance of their skin.
For more information about the newly reformulated Hydrolyze® visit http://www.hydrolyze.tv.
###