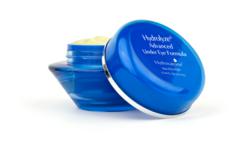 New York, NY (PRWEB) April 20, 2011
The intense competition experienced by manufacturers in the health and beauty industries requires brands to constantly reassess and improve their products. Oftentimes, companies that cannot keep up with the demand for an effective product fail; however, those brands that are capable of redefining their merchandise and improving their capabilities have the potential to become powerful players in the market. Hydrolyze® is one such brand.
Recently reformulated, the new Hydrolyze® formula boasts more powerful results, smoother texture, and milder ingredients. Basically, the Advanced Formula offers a stronger yet gentler combination of new ingredients aimed at effectively reducing the appearance of dark circles, fine lines, wrinkles, and bags around the eyes. Consumer reviews confirm that the new formula has indeed improved the effectiveness of the product.
The new Hydrolyze® is formulated using three signature ingredients, Dermox, Biophytex™, and Eyeliss™. In the right proportion, these ingredients fight the dark circles , under eye bags and wrinkles so commonly plague men and women, resulting in the fading of circles and a fresher, more relaxed appearance. Reviews indicate that, despite the fact that health and beauty products are often marketed toward women, both men and women are experiencing positive results from the new Hydrolyze® formula.
The opinions of consumers have been supported through lab tests, which have been conducted by both dermatologists and allergists. Found to be safe for all skin types, even sensitive skin, the new Hydrolyze® has opened the brand up to a new market of consumers—those who suffer from overly sensitive skin. 100 percent paraben-free, the product contains natural oils to create a smoother texture, which results in a higher level of conditioning of the skin.
In addition to an improved appearance, consumer reviews have also reported that the new Hydrolyze® has worked so well that it has helped improve their self-confidence. This is highly important to the manufacturers, as improving the self-esteem of clients is certainly one of the many aims of the health and beauty industry.
About:
New Hydrolyze® Advanced Under Eye Formula is a skincare product created to reduce the appearance of dark circles, fine lines, wrinkles, and bags around the eyes. With an innovative mixture of key ingredients, including Biophytex™, Dermox, and Eyeliss™, the new formula has achieved a successful balance of strength and mildness, allowing it to produce significant results with minimal side effects.
Consumer reviews indicate that Hydrolyze® is a product that really delivers. Trusted by countless consumers, the product has become a mainstay in the health and beauty industries.
For more information about the new Hydrolyze® visit http://www.hydrolyze.tv.
###