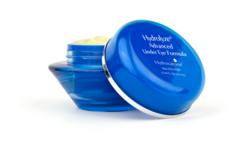 New York, NY (PRWEB) June 06, 2011
For decades women have worn makeup to hide their imperfections, highlight their most attractive facial features, and express themselves through the use of colors and application techniques. Now, women are straying from the department store makeup counters and focusing more on keeping their skin healthy so that they can indulge in the latest fashion trend: wearing almost no makeup at all. Hydrolyze, a skincare product that diminishes the signs of aging and dark circles around the eyes, offers women the ability to proudly keep their skin beautiful without caking on the concealer.
Media outlets have speculated about the roots of this new trend, contributing it to several cultural factors from a rejection of cosmetic surgery to a financial reaction to the recent recession. Additional conjecture attributes the trend to the growing cultural awareness of natural products and healthier lifestyles. There was brief buzz about the trend earlier, but after it was incorporated into many of the shows presented during Australian Fashion Week its influence has been solidified. Regardless of why women are opting to forgo the eye shadow and skip the mascara, they are certainly in need of products to keep their skin healthy if they wish to participate in the latest looks endorsed by the fashion industry.
The goal of the lack of heavy makeup is to make the skin appear luminous, rather than to give it a matte finish. This requires the face to be hydrated and free of the lines, wrinkles, and discoloration that can distract attention from the glow of the skin. Hydrolyze is able to provide these skincare needs, and with the increasing popularity of this minimal trend has become more in demand than ever.
Hydrolyze is clinically proven to reduce the signs of aging, dark circles, and puffiness around the eyes, making it the perfect product for women looking to go au naturel. Made from a balanced formula of Biophytex, Dermox, and Eyeliss, the product has the ability to improve the appearance of the skin without causing the side effects that are so common to other skincare items, such as irritation, redness, and swelling.
ABOUT:
Hydrolyze is a skincare product that targets and reduces the appearance of fine lines, wrinkles, bags, and dark circles around the eyes. The newest formula is safe for all skin types, even the most sensitive, allowing it to benefit every consumer that invests in the product. Paraben free and effective, Hydrolyze has earned the trust of thousands of consumers and continues to be listed among the most influential and valued skincare products on the market.
For more information about Hydrolyze, or to order a free trial of the product, visit http://www.hydrolyze.tv.
###