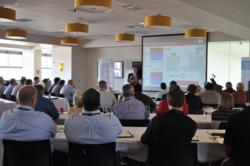 Easton, PA (PRWEB) March 13, 2012
With training around hydronic balancing continuing to be in high demand, Victaulic and Tour & Andersson (TA) have expanded their popular series of hydronic balancing seminars, known as the TA Hydronic College. The companies offer two seminar topics, "The Three Key Conditions" seminar and "Investment and Energy Saving Opportunities in Variable Flow Systems."
The new topic will examine production units, terminal units, variable speed pumps and primary-secondary versus variable primary flow related to HVAC system components, controllability and operating efficiencies, as well as analyze critical issues and interactivity.
"The Three Key Conditions" seminar has remained popular after touring more than 21 North American cities. The seminar focuses on the key conditions required for hydronic balancing to meet the goal of providing the desired indoor climate at the lowest energy cost. Attendees benefit from a detailed overview of the theory and practical application of hydronic design and balancing, and the "key conditions" needed to meet challenges:

Key Condition 1: Design Flow Availability
Key Condition 2: Differential Pressure Variations
Key Condition 3: Compatibility Between Flows
2012 seminar dates, locations and topics are as follows:

April 12 – Detroit, Mich.: "Three Key Conditions"
April 19 – Atlanta, Ga.: "Investment and Energy Saving Opportunities"
May 16 – San Diego, Calif.: "Three Key Conditions"
May 23 – Toronto, Canada: "Investment and Energy Saving Opportunities"
September 19 – Seattle, Wash.: "Investment and Energy Saving Opportunities"
September 26 – Orlando, Fla.: "Three Key Conditions"
Victaulic also offers follow-up sessions for engineers and facility owners that have attended any of the TA Hydronic College seminars. Interested individuals should email balancingseminars(at)victaulic(dot)com.
About Victaulic
Founded in 1925, Victaulic is the world's leading producer of mechanical pipe joining systems. Headquartered in Easton, Pa., Victaulic has manufacturing and distribution facilities worldwide and employs more than 3,500 people. The company develops products and services for some of the world's most demanding markets, including oil, gas and chemical; mining; power generation; water and wastewater treatment; and military and marine systems; as well as commercial building and fire protection applications. Keep in touch with Victaulic on Facebook, Twitter or LinkedIn.