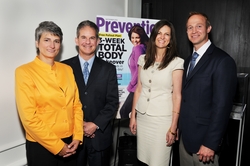 "It's exciting to be one of only seven companies to receive a Prevention magazine 2010 Defy-Your-Age-Beauty-Award," said Dr. Louise Peck, PhD and founder of HydroPeptide. "Using 19 peptides in the HydroPeptide collection gives our formulations a distinct
Seattle, WA (PRWEB) September 14, 2010
HydroPeptide is the winner of Prevention's 2010 Defy-Your-Age-Beauty-Award for "Best Day Cream with SPF." Prevention magazine put the leading anti-aging beauty products to the test once again this year, revealing just seven products deserving of the "Defy-Your-Age" seal. The HydroPeptide SPF 30 Anti-Wrinkle Skin Enhancing UV Protection overpowered competition thanks to its "all-star lineup of rejuvenating ingredients."
Prevention magazine's beauty award winners aren't just reader-approved – they're all backed by solid science. After dermatologists thoroughly test 35 new eye creams, day creams, night creams, peels, and more, each product is then used by a group of five women over age 40 for up to eight weeks. A dermatologist then analyzes their skin using high-tech equipment like the Visia Complexion Analysis machine, which takes and compares before-and-after photos to show improvement in a number of common problem areas, including wrinkles, redness, and pore size. The women each rate the product according to ease of use, feel, scent, and more. All of these factors combine to award one product in each of the seven categories with Prevention's coveted Defy-Your-Age award.
HydroPeptide SPF 30 is not the average day cream with sunscreen. This award-winning product self-adjusts to the color of your own skin tone, enhancing your complexion and offering smooth, flawless coverage with a rich blend of anti-inflammatories and antioxidant protection. In 2009, HydroPeptide won four beauty awards and in 2010 HydroPeptide has already earned three more accolades.
What makes HydroPeptide so effective? The HydroPeptide collection includes an industry leading 19 different peptides to boost collagen and fight wrinkles. Additionally, HydroPeptide products are formulated for all skin types, are cruelty-free, paraben free, phthalate free and contain ECOCERT organic ingredients.
What are peptides? Peptides are cell messengers that nourish, repair, and send neural-messages, which naturally stimulate diminished collagen and other important skin tissues as well as relax repetitive wrinkle-causing facial expressions. HydroPeptide is the first skin care company to include peptides into every product and includes them at the highest clinical concentrations. This is significant because different peptides stimulate different collagen, elastin, and other parts of the skin matrix. These cell messengers provide restorative results as well as preventative anti-aging benefits.
"It's exciting to be one of only seven companies to receive a Prevention magazine 2010 Defy-Your-Age-Beauty-Award," said Dr. Louise Peck, PhD and founder of HydroPeptide. "Using 19 peptides in the HydroPeptide collection gives our formulations a distinct advantage. HydroPeptide products are very results oriented – earning us 7 beauty awards in just the last year."
HydroPeptide products are available in prestige retail locations nationwide and at http://hydropeptide.com.
About HydroPeptide
HydroPeptide takes the most advanced, scientifically proven skin care elements and simplifies your beauty routine with the Simply Ageless Skin Key, giving you a complete map to beautiful, healthy, ageless skin. The multifaceted HydroPeptide takes the hassle out of your already hectic and complicated life. Whatever your skin type and whatever your concern, HydroPeptide supplies the latest high-tech vital ingredient technologies that deliver youthful, healthy skin.
# # #