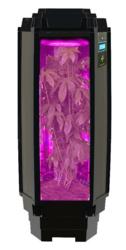 Hearst is a solid company with an impressive legacy of media success. They are the perfect partner to help us market the premier hydroponic indoor growing systems.
Los Angeles, CA (PRWEB) February 10, 2012
Phototron Holdings, Inc. (OTCBB: PHOT) (OTCQB: PHOT), the Los Angeles hydroponic grow box company that is leading the indoor mini-greenhouse revolution, today announced a partnership with Hearst Media Services / Bay Area to help the company build brand awareness and grow revenue.
The long-term Hearst Media Services / Bay Area digital marketing campaign is a multifaceted online marketing program that utilizes the power of SFGate.com as a source of high-quality news and information, search engine tools, and the latest optimization techniques to maximize placement of media along many different stages of Phototron's prospective customers' engagement cycle.
Under the agreement, Hearst will also develop and distribute news content in the form of frequent press releases about Phototron through PRWeb, the largest online PR channel in the world, to build brand awareness and educate the "grow your own" market—which is rapidly growing.
"We are very excited to be working with Hearst," said Craig Ellins, Phototron's CEO. "Hearst is a solid company with an impressive legacy of media success. They are the perfect partner to help us market the premier hydroponic indoor growing systems."
For more information about the Phototron / Hearst Media Services partnership or any of Phototron's products, call (800) 651-2837, or go online to http://www.phototron.com.
About Phototron Holdings, Inc.
Phototron Holdings, Inc. (OTCBB: PHOT) (OTCQB: PHOT) designs and manufactures cutting-edge indoor mini-greenhouses capable of year-round growth of herbs, vegetables, flowers, fruits and medicines, better, stronger and faster than traditional farming methods.
The Phototron Hydroponic Indoor Grow System, commonly called grow boxes, is built upon decades of research on the optimal temperature, light, water and nutrient needs of plants. The Phototron System uses proprietary lighting that mimics the sun's rays to grow nutrient-rich, pesticide-free, eco-friendly crops faster and in more bountiful quantities than those of traditional gardening methods, resulting in fruits and vegetables of superior taste and quality.
Phototron systems and accessories are available for purchase from the Company's website. Phototron supports the sale and use of its products to the home medical marijuana market where compliant with applicable laws. Phototron also supplies a full range of parts, accessories and advanced nutrients to more than 50,000 customers.
For comprehensive investor relations material, including fact sheets, presentations, conference calls and video, please follow go to http://www.phototron.com.
Forward-Looking Statements
Except for historical information contained herein, the statements in this release are forward-looking and made pursuant to the safe harbor provisions of the Private Securities Litigation Reform Act of 1995. Forward-looking statements are inherently unreliable and actual results may differ materially.
Examples of forward-looking statements in this news release include statements regarding new growth initiatives and accelerated growth, successfully monetizing MLM business model, marketing and distribution plans, development activities and anticipated operating results.
Factors which could cause actual results to differ materially from these forward-looking statements include such factors as the Company's ability to accomplish its business initiatives, significant fluctuations in marketing expenses and ability to achieve and expand significant levels of revenues, or recognize net income, from the sale of its products and services, as well as the introduction of competing products, or management's ability to attract and maintain qualified personnel necessary for the development and commercialization of its planned products, and other information that may be detailed from time to time in the Company's filings with the United States Securities and Exchange Commission.
The Company undertakes no obligation to publicly update or revise any forward-looking statements, whether as a result of new information, future events or otherwise.
###