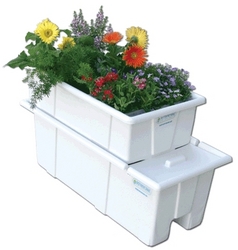 The vegetables you can grow hydroponically will be larger in size and yield more nutrients. If you stagger your planting in one of our smaller hydroponic starter kits, you could start harvesting a variety of fresh lettuce every week
Denver, CO (PRWEB) July 18, 2010
A random E. coli bacteria test conducted by the Food and Drug Administration in a package of Fresh Express Hearts of Romaine salad has resulted in the second recall of lettuce in two months. The most recent recall is a result of the E. coli bacteria found in a package of lettuce; the first recall last month was due to a salmonella contamination.
Fresh Express, located in Salinas, California, has voluntarily issued a product recall on a specific line of their Romaine lettuce salad products due to the discovered E. coli contamination.
A representative stated that the lettuce products have use-by dates ranging from July 8 – July 12, and users can identify them by the "S" located in the product code.
The salad products were distributed in 20 U.S. states, including but not limited to California, Arizona, Arkansas, Colorado, Hawaii, Idaho, Kansas, Minnesota, Montana, Nebraska, New Mexico, Nevada, North Dakota, Oklahoma, Oregon, South Dakota, Texas, and Utah.
Due to the growing number of bacterial food contamination's, more and more people are purchasing hydroponic supplies and growing their own vegetables, especially lettuce. Lettuce is one of the easiest vegetables to get started growing hydroponically. Jeremy Stout, owner of The Big Tomato says, "The vegetables you can grow hydroponically will be larger in size and also yield more nutrients. If you stagger your planting in one of our smaller hydroponic starter kits, you could start harvesting a variety of fresh lettuce every week".
Here is just a short list of benefits you can achieve by growing your own lettuce:

Avoid that soil taste in lettuce that we all try so hard to wash out because your lettuce is grown hydroponically and not soil.
You are less susceptible to certain pests that generally live in soil.
A hydroponic garden is very inexpensive to maintain once you establish your initial setup.
No weeding and no watering required with your hydroponic system, just pick the lettuce when it's time.
As mentioned above, by spacing your planting cycle you can produce and harvest a variety of fresh lettuce indefinitely.
Hydroponically grown lettuce can expect to be approximately 40% larger than soil grown lettuce.
Harvest your lettuce quicker than soil grown lettuce since the roots don't have to grow as much to search out nutrients in the soil. You will be supplementing your system with nutrients as you grow.
Since May 2000 when The Big Tomato first launched its business, the number of customers growing their own herbs and vegetables hydroponically has been growing exponentially. Their stock of hydroponic supplies includes organic nutrients; grow lights; grow tents; hydroponic systems and much more. For more information you can visit their website to see the full range of indoor gardening equipment.
###